We review products independently and our recommendations are genuine. If you purchase through links on our site, we may earn an affiliate commission. Learn more
When performing live, drummers must be on an even surface. It also helps to be raised from the ground level, as this can improve performance. Drum risers are designed to make this easy. 
Most drummers have been tasked with setting up their drum set on a surface that isn't suitable. This often results in the drums moving when they are played, making it much harder to concentrate on playing them to the best of your ability. 
This guide presents the best drum risers available. We've assessed their stability, build quality, and the space they provide so that you can choose the ideal riser for your live performances.
What are the Best Drum Risers?
Image

Recommended Products

Product

Features
Price

Best for Compact Drum Sets

6' x 6' Foot drum riser - 183 lbs
Four 3' platforms with internal locking system
Easy to transport and set up

Best for Medium-Sized Drum Sets

8' x 8' Foot drum riser - 294 lbs
Four 4' platforms with internal locking system
Four 24-inch aluminum risers

Best For Extensive Drum Sets

12' x 8' Foot drum riser - 440 lbs
Six 4' platforms with internal locking system
Six 16-inch aluminum risers
In-Depth Drum Riser Reviews
Best for Compact Drum Sets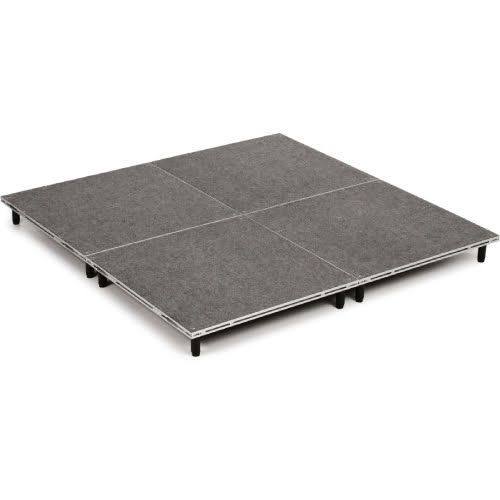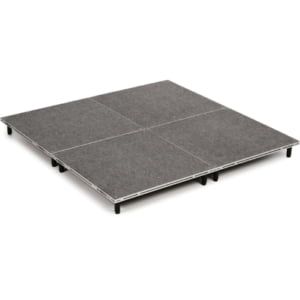 A portable and compact drum riser ideal for standard drum sets with a kick, snare, three toms, hi-hats, a crash, and a ride cymbal. Its sturdy design ensures it won't move while you play.
The winner of the best drum riser goes to the IntelliStage ISDRUM6X6, for its ease of use and rock-solid stability. This drum riser allows for effortless setup in a matter of minutes thanks to its integrated locking system and simple screw-in legs.
This IntelliStage drum riser measures in at 6-feet wide and 6-feet long. The stage system consists of four 3-foot platforms that lock together with the internal locking system for ultimate stability, night after night.
The ISDRUM6X6 drum riser is compact and can fit easily into the trunk of a car. It's lightweight and super easy to transport to every gig you play. Once set up, the drum riser offers 36-square foot of stable and elevated space to perform on!
Unlike most expensive drum risers, the ISDRUM6X6 drum riser is ideal for most gigging drummers thanks to its portability and ease-of-use. This really is the best drum riser on the market for drummers looking to elevate their performance and be seen rocking out on stage.
No matter what size stage you're playing on, the Intellistage 6×6 drum riser is the perfect addition for your band's stage set up and it'll certainly raise your game when it comes to stage presence.
Features:
6' x 6' Foot drum riser – 183 lbs
Four 3' platforms with internal locking system
Easy to transport and set up
Best for Medium-Sized Drum Sets
An excellent choice for drummers who use more than three cymbals when they play or have a larger-than-average drum kit. The robust legs will support a significant amount of weight.
Up next we have the IntelliStage ISDRUM6424 Drum Riser, and this stage system measures in at 8' x 8' feet for a larger space to set up your drum set. This lightweight and supportive staging platform is perfect for drummers demanding to be seen on stage.
With the ISDRUM6426 package, you receive 64-square feet of stage space to set up your drums atop of. This drum riser is finished with a high-quality dark grey carpet for safe and slip-free performance. Your drums won't move an inch on this surface!
The drum riser is lightweight and very supportive. It's also surprisingly transportable – everything folds away quickly and easily. All you need to do to set up the drum riser is extend the aluminum risers, place the platforms on top, and screw the legs in. Once the platforms are mounted, the internal locking system will secure everything in place.
Included with the ISDRUM6426 set you'll receive four 4-foot by 4-foot carpeted platforms, and a set of four 24-inch aluminum risers. The aluminum risers are easy to set up, and they fold in an accordion-like fashion.
If you are looking for the best drum platform that is heavy-duty, supportive, lightweight, and of course, looks great on stage; then the IntelliStage 8-foot by 8-foot drum riser makes a perfect choice!
Features:
8' x 8' Foot drum riser – 294 lbs
Four 4' platforms with internal locking system
Four 24-inch aluminum risers
Best For Extensive Drum Sets
This is the perfect drum riser for drummers who use additional equipment when performing, such as a vocal microphone, sample pad, or electronic drums. The extensive size is ideal for large drum sets.
Lastly up for review is the mammoth IntelliStage ISTAGE12816 Stage Platform that offers an enormous 96 square foot of stage space! This staging system can support everything from a single drummer to a full band.
The ISTAGE12816 portable stage platform and drum riser provides a killer professional appearance and an enhanced stage presence for all different types of events. This drum platform is perfect not only for drummers but also for DJs and bands.
Included with the package you'll receive six 4' foot by 4' foot platforms that have a safe, non-slip surface to set up drums upon, as well as rugged aluminum risers with metal mounting posts. The modular staging system is easy to set up and tear down, thanks to the extending risers and internal locking system.
The IntelliStage ISTAGE12816 is built like a tank. Once set up, it can hold an enormous amount of weight. It can even hold a car! And when it comes to transporting the drum platform, it neatly folds away for convenience.
If you're looking for an awesome drum riser, this versatile stage looks amazing for professional performances and it offers incredible strength and stability.
Features:
12' x 8' Foot drum riser – 440 lbs
Six 4' platforms with internal locking system
Six 16-inch aluminum risers
Drum Risers Buying Guide
Whether setting up a rehearsal or recording space or assembling a drum setup for a live gig, having a reliable drum riser will make things much easier. 
These sturdy platforms are a wise investment for gigging drummers. Not only do they ensure that your drum set won't move around while you play, but they also make it easier for you to be noticed by the crowd when performing. 
We're accustomed to seeing performers up on a stage, and if you're drumming on ground level, it may look a little strange. 
Our detailed buying guide will give you all the information required to choose the best drum riser to suit your needs. 
Things to Consider When Buying Drum Risers
Materials
Drum risers must be able to handle a significant amount of weight. The materials used to construct the riser will impact its strength and stability, so keep this in mind when making your choice. 
Your Setup
The dimensions of the drum riser must be extensive enough to fit your drum set, hardware, and any other gear you use when performing. Make sure you measure your existing setup to look for a riser with adequate space to fit everything on. 
Portability
Most drum risers fold up or can be disassembled to make them easier to transport and store. If your riser is going to stay in one place most of the time, portability may not be too critical, but if you plan to use it in various locations, it's an essential quality.
What Features to Look for in Drum Risers
Assembly & Setup 
When a drummer arrives at a live performance venue, rehearsal space, or recording studio, they ideally want to set up and start playing as soon as possible. Using a drum riser can make setting up more time-consuming. 
It's therefore essential to choose a riser that can be assembled quickly, leaving you with more time to focus on the vital tasks at hand – such as ensuring your drums are in the correct position and that your cymbal stands are set to the optimal height. 
Some drum risers require you to attach each section individually. This is not ideal if you're hoping to get set up quickly so you can play or soundcheck your drums. 
Other drum risers are designed for convenience and fold up into an accordion-like shape so that you can simply unfold them and assemble your drums on the surface as soon as possible. 
Locking System 
Once you've assembled a drum riser, you'll need to ensure it's secure enough not to move while playing drums. Locking mechanisms are used to clamp the various sessions of the riser in place. 
Some risers also have internal locking systems, which provide additional security and are guaranteed to stay in place while you're playing. 
The level of security your drum riser needs will depend on how often and where you intend to use it, but it's advisable to choose one which locks together securely to avoid any problems. 
Maximum Weight Handling
Although this may seem obvious, you must check the weight of your equipment to ensure that the drum riser you choose can handle it. 
For most drummers, the weight of their equipment shouldn't be an issue when choosing a riser. However, some may use additional gear such as monitors, samplers, and other forms of percussion, making their setup heavier. 
Your weight should also be considered when choosing a riser, as this could result in too much pressure on the legs, mainly if the build quality isn't up to scratch.
Drum Risers FAQs
What Size Should a Drum Riser Be?
The ideal size of a drum riser depends on the setup you use. If you use a standard drum set with minimal additional equipment, a 6'x6' riser should be sufficient. 
Drummers who use a more extensive drum set may need more space to fit all their equipment on the riser. When performing, you'll need a larger riser if you use a vocal microphone or any other gear, such as a digital sampler. 
Can You Make a Drum Riser? 
Although it's possible to make your drum riser, the cost of getting all the materials will probably exceed the cost of buying a ready-made one. Drum risers can be made using wood, boards, and a non-slip material such as carpet.