We review products independently and our recommendations are genuine. If you purchase through links on our site, we may earn an affiliate commission. Learn more
Including a hi-hat microphone in a recording setup will make a big difference to the overall sound captured of a drum set. It will help you to achieve the most detailed and complete sound possible for studio and live settings.
Most drum microphone kits don't include a hi-hat mic, so you typically need to purchase one separately. You'll just need to make sure that the interface or mixer that you're using has enough inputs to accommodate for a hi-hat mic after all the other drums have been lined up.
In this guide, we'll take a look at the best hi-hat microphones for capturing crisp sounds. I've compared the sound, performance, durability, and cost of four microphones to give you my top recommendations for pairing with hi-hat cymbals.
In a Rush' Round-Up
Image

Recommended Products

Product

Features
Price

Beautifully detailed sound reproduction
Linear frequency response for precise sounds
3-Step switchable high-pass filter

Excellent value and well-balanced sound reproduction
Designed and made in Australia with 10 year warranty
Internally shock mounted 1/2 inch condenser capsule

Frequency response 20Hz-20kHz
Switchable high pass filter
Permanently polarized, fixed-charge capacitor

Lightweight 1/2 inch condenser transducer diaphragm
Affordable and professional quality microphone
Small, rugged and versatile

Gold-sputtered diaphragm condenser microphone
Pressure-gradient transducer with shock-mount
Noise-free transmission
Hi-Hat Microphone Buyer's Guide
While you won't find hi-hat mics in most microphone packs, they're a vital part of any professional live or recording setup. A good hi-hat mic will allow your hi-hat to be distinctly heard within a mix.
The mic is often placed near the top hi-hat, but some drummers and engineers like to place it underneath the bottom hat to stop the rest of the kit sound from bleeding into the mic.
If you're looking to buy a full microphone setup, it's better to buy the other drum mics before your hi-hat mic. However, the hi-hat mic will add a lot of clarity to your hi-hat sound as opposed to your overhead mics being the only sources that pick the hi-hats up.
The great thing about condenser mics is that you can use them interchangeably as overheads or hi-hat mics.
What to Look for in the Best Hi-Hat Mics
Frequency Response
Frequency response refers to the range of frequencies that a microphone picks up. When using a mic to pick up a whole drum kit, it's important to have a wide frequency response due to all the different sizes and tones.
With hi-hats, it's okay, and sometimes better, to have a mic that's frequency response leans more toward mid and high frequencies.
All the mics listed above have frequency response ranges between 40 and 20 000 Hz, making them perfect options for hi-hat mics.
You'll usually find ranges like this with condenser mics as opposed to dynamic ones. Condensers are typically more expensive for this and many other reasons.
Sound Quality
Lower priced microphones sound quite good most of the time, but it takes a lot more effort in the post-production process to get them to that place. You'll need to do extensive mixing to get a studio-level sound from your hi-hats.
The more expensive microphones are a lot easier to work with. You get an amazing sound as soon as you plug them in, making them a better option to go with if you're not willing to sit and EQ.
As the price of a mic goes up, the better it's base sound gets.
Durability
The durability of a microphone is determined by its casing. A thicker and sturdier microphone casing lasts a lot longer. You'll find that higher-priced microphones are always built better, and they're the types of microphones that can be used for decades.
Many inexpensive microphones tend to sound great when used for recording or live playing, but they don't last as many years. Their casing either wears out, or their internal wiring goes awry.
So, it's normally better to invest a bit more into a high-quality microphone that is built to last.
Pickup Pattern
Omnidirectional and cardioid are your two main types of pickup patterns with microphones. When it comes to hi-hat mics, it's best to look for cardioid mics.
A cardioid mic does well to reject unwanted sounds coming from the sides, so a cardioid mic placed near a hi-hat won't pick up the sound coming from your snare drum.
You can place a cardioid mic very close to the hi-hats and still get the full extent of tone that your hats have.
Cardioid mics range in prices, with some having budget prices and others having more professional price points. A pickup pattern is one of the features that doesn't heavily affect the cost of a microphone.
Size
The size of a microphone affects how comfortably you can place it around your hi-hats. If you have a large space to place your drum kit in, this won't be a big deciding factor.
It's good to get a smaller hi-hat mic if you plan on using it for live gigs. Just know that smaller mics with top-tier sound reproduction tend to be more expensive.
How to Position a Hi-Hat Mic
When positioning a hi-hat mic, it's important to consider the following:
The distance of the mic from the hi-hats
The angle of the mic towards the hi-hats
The height of the mic from the hi-hat cymbals
Ideally, you want to place the hi-hat mic close to the hi-hats so it can capture a tight and focused sound.
I'd suggest placing the hi-hat mic about 4-5 inches above the top hi-hat cymbal, pointing towards the edge of the cymbal.
You can see how the hi-hat mic is positioned in one of my most recent recording sessions in the image below.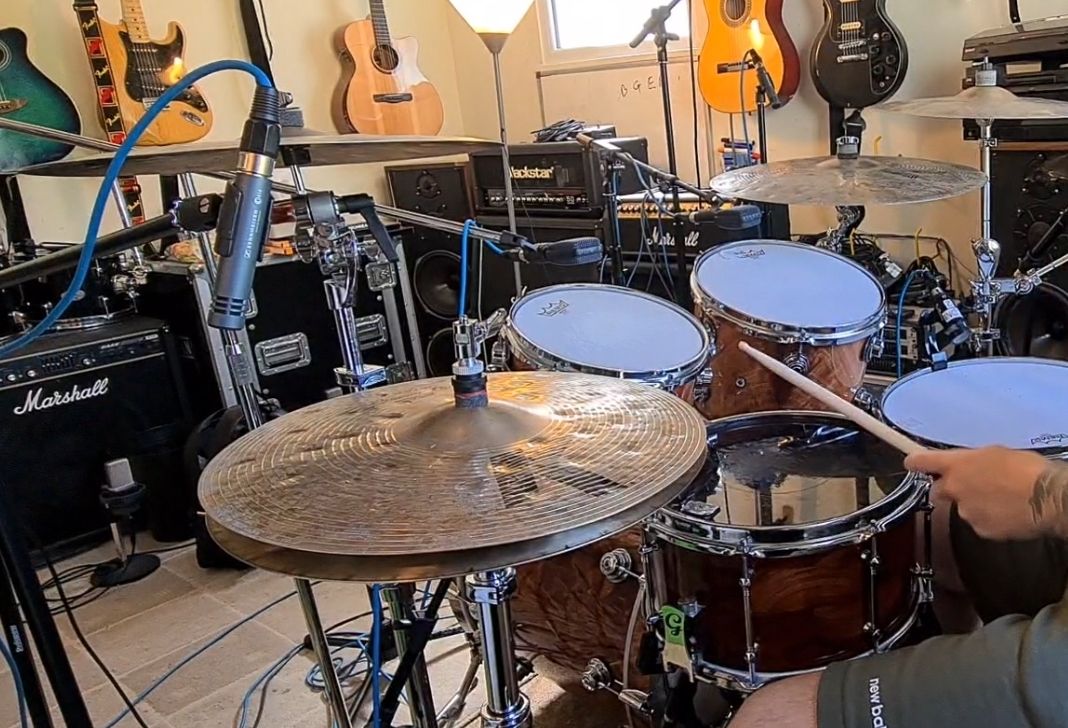 Positioning the mic too far away from the hi-hat will result in the mic picking up more ambiance from the room and potentially picking up bleed from other parts of the drum set.
Therefore, it's best to position the mic fairly close to the hi-hats. Most drummers and studio engineers like to place the mic above the top hi-hat cymbal as opposed to underneath the bottom hi-hat cymbal.
Just ensure there is enough room to play the hi-hats with your drumsticks and for the hi-hats to open up and down without accidentally striking the microphone.
Experiment with different positions and angles until you find the sound you are looking for.
Hi-Hat Mic FAQs
Are Dynamic or Condenser Microphones Better for Hi-Hats?
Condenser mics are ideal for hi-hats due to their larger frequency ranges. They capture more of the nuances from your hats.
However, you can get away with using a dynamic microphone in certain settings. You just won't get the same scope of tone as you would with a condenser.
How Much Should You Spend on a Hi-Hat Mic?
Microphones vary drastically in price. The more money you spend, the better the sound quality will be, with more desirable qualities and characteristics. It will also be more durable, causing it to last longer.
You can spend a lot more on a luxury microphone for your hi-hats, but I wouldn't recommend it for anyone who isn't a professional studio producer or live sound engineer.
Should You Use More Than One Hi-Hat Mic?
You may find a professional recording studio having two hi-hat mics to get the fullest possible sound from the top and bottom hats, but you can get a perfectly good hi-hat sound with a single mic.
I'd suggest sticking to using only one hi-hat mic and investing all your available money into that.