Over the past decade or so, Harry Styles has become one of the best-known pop stars on the planet. After initially enjoying success with the boyband One Direction, the English singer has reinvented his image as a solo artist.
Behind every popular singer, you'll usually find a band of incredibly tight and talented musicians. Harry Styles' live and studio band consists of some excellent musicians – notably the drummer Sarah Jones.
Despite being young for a professional musician, Jones has been active in the industry for the best part of two decades, playing with an eclectic mix of bands and musicians in multiple genres and styles.
Jones is quite well-known amongst hardcore Harry Styles fans. She's an excellent musician who deserves more recognition, and that's why we're writing this article on the topic of who plays drums for Harry Styles.

Who is Harry Styles Drummer?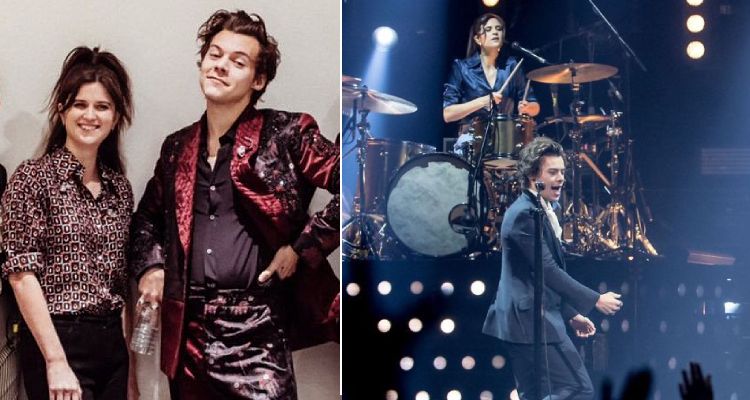 Sarah Jones, born in 1986 in London, the capital city of England, is a  professional drummer, vocalist, and percussionist.  Her musical journey began at a young age when she started playing the piano. Although Jones enjoyed it, it wasn't quite the sound she was searching for.
Fortunately, a family friend left a drum kit at her house, and with the help of her cousin's guidance on basic beats, she began playing the drums. Her father's friends would come over to jam on the weekends, and Jones couldn't help but join in, learning from their skills.
As is often the case with drummers, Jones's skills were in high demand in the early days of her career.
This led to Jones eventually joining some local bands in the Hereford area before her talents led to multiple tours in the UK and around Europe.
Sarah Jones and Harry Styles
Throughout her career in the music industry, Sarah Jones has performed with several bands and acts, but she is best known as the touring and studio drummer and backing vocalist for Harry Styles.
Her collaboration with Styles began in 2017 when she joined him as part of his live TV appearances and subsequent world tour. During this time, Jones provided not only drums but also backing vocals.
Jones has continued to work with Styles after the release of his second album, Fine Line, which was released in 2019.  She has been part of all the promotional efforts, as well as Styles' international Love on Tour tour, which spanned from 2020 to 2022.
Although nothing has been confirmed, it would appear that Harry Styles intends to continue using Sarah Jones as his preferred drummer for his tours going forward.
Many of Harry Styles fans have praised Jones for her drumming performances on his tour, and she has become a popular member of the live band. This would lead us to believe that she will be returning to play with him on any upcoming live performances.
Other Artists Sarah Jones Performs With
In addition to working with Harry Styles, Sarah Jones has also played with many other acclaimed acts.  This includes Bloc Party, Aynsley Lister, Hot Chip, and Bat For Lashes, with whom she has graced many of the world's most prestigious festival stages.
Jones is also the founding member of NYPC, which is an electronic act with three studio albums under its belt. Additionally, she has released a number of solo singles under the name Pillow Person. In 2020, she played drums on Puscifer's album Existential Reckoning.
Sarah Jones' Session Work
As of 2023, Harry Styles drummer Sarah Jones is credited with having played on over 80 studio and live recording projects. She's worked with a wide range of artists, some who are very well known and others who are up-and-coming.
The most notable session work she has done is singing backing vocals on Harry Styles' 2019 hit, "Fine Line." She has also played the drums on Kurt Vile's 2022 track, "Watch My Moves," Hot Chip's "A Bath Full of Ecstacy" in 2019, and "Immunity" by Jon Hopkins in 2013.
Other notable recordings that Jones has played on include "The Haunted Man" by Bat For Lashes, "Beautiful Thing" by Alexis Taylor, and "Pour It On" by New Build.
Since first breaking onto the music scene in the early 2000s, Sarah Jones has been pretty consistent with her work as a session drummer, and it looks as though she's becoming more in demand as the years go by!
What Makes Sarah Jones a Great Drummer?
It's clear to see why Sarah Jones is the perfect fit for Harry Styles. Her skills as a drummer, vocalist, and performer have helped make Harry Styles' live shows some of the most popular in the pop/rock genre.
Sarah Jones is an inspiration to aspiring female drummers and a great example of how hard work and dedication can take you to the biggest stages in the world.
In her live performances with Styles, she has demonstrated very tight playing, which is essential for pop drummers. She knows when to serve the song and when to briefly show her technical skills behind the kit.
Drumming for a huge popstar like Harry Styles must be a daunting task, but Sarah Jones takes it in her stride. She is an incredibly versatile drummer that can play in many different genres and styles with ease, as is evident from her discography.
Harry Styles' music blends many different genres and musical elements. Some of the songs have a pop-ballad feel, while others are more in the style of indie rock. Therefore, when touring with Styles, Jones has to constantly switch up her playing to suit the compositions.
This is a difficult skill to have, as most drummers tend to specialize in one genre. Sarah Jones' ability to adapt and play many different styles has made her an invaluable member of Harry Styles' live band.
How Did Sarah Jones Become Harry Styles' Drummer?
Landing the gig as the drummer for a huge popstar like Harry Styles would be considered a pipe dream for many musicians, but Sarah Jones has managed to do it. As with all opportunities, there's an element of "right place, right time," of course, along with preparation and ability.
A mutual friend, who happened to be signed to the same label as one of Jones' associated acts, Hot Chip, was in a relationship with a remember of Harry Style's creative team and was tasked with assembling a suitable band for his upcoming live shows.
As the story goes, Jones was on vacation when she got the offer to join Harry's band. She wasn't familiar with the star's music, so she was understandably nervous at the audition, but she must have blown it out of the park, considering that Styles has used her ever since!
Who Else is In Harry Styles's Band?
Harry Styles' band consists of some excellent musicians. Along with Sarah Jones, the rhythm section is completed by bass guitarist Elin Sandberg, who is from the Scandinavian country of Sweden and played with Styles on the "Love On Tour."
Together, Sandberg and Jones form an ultra-tight rhythm section that allows the rest of Styles' band to flourish. They're locked into every beat during live performances and often win praise from fans after the shows.
On the piano in Harry Styles' band, you'll find Niji Adeleye, who is a recent addition that also took part in the most recent "Love On Tour" dates. Adeleye is a virtuoso on the keys and piano and adds flair to the band's sound.
He has also released several solo projects, such as Better Days Ahead in 2015, and the 2017 album entitled Late Nights Early Mornings.
Next, there's the energetic percussionist Pauli Lovejoy. Tasked with adding more rhythmic variations to the songs, Lovejoy works with Sarah Jones' drumming to ensure that the percussion is a strong part of the music.
On the guitar, Styles' friend Mitch Rowland, who played on the recording of the hit single "Watermelon Sugar," can be found. He landed the gig after another guitarist pulled out of the recording session at the very last minute!
Rowland is known for being somewhat shy and reserved when performing. However, he's a prolific and successful songwriter, helping to pen all but one of Styles' debut album tracks. 
Rowland is also married to drummer Sarah Jones, with the pair having their first child in 2021. It is unclear whether they met through both being members of Harry Styles' touring band or whether they are together before that.
Additional members of Styles' band include the pianist and vocalist known as Ny Oh, who united with the ex-One Direction artist for his second album. Charlotte Clark has also been a part of the band in the past but didn't end up touring with him after 2021.