While many drummers like to keep a low profile or simply don't have the personalities to become household names, there are others who gain the same level of popularity as the other members of their bands. 
Travis Barker is one of those drummers. Renowned for his energetic playing style, his work with the American alternative rock band Blink 182, and his crossovers into other musical genres, he's become one of the best-known musicians of his generation. 
Barker has released a huge catalog of music since he first burst onto the music scene in 1993 and continues to tour extensively. 
In this guide, we'll analyze the drum set and other gear that Travis Barker has used throughout his career. We'll also closely examine his story and what makes him such a talented and captivating drummer. 

Who is Travis Barker?
Born in Fontana, California, in 1975, Travis Barker is best known as the drummer for the American three-piece rock band, Blink 182. 
Barker is one of the most widely known and recognized drummers in the world today, but he spent many years honing his craft and trying to make it in the music industry before achieving mainstream success with the release of Blink 182's Enema of the State in 1999. 
After getting his first drum set at age four, Barker took up lessons, eventually making his way into the marching band in high school, playing the snare drum. He also played in jazz ensembles and became a punk rock and hip-hop fan in his teenage years. 
After achieving some success with the ska-punk group the Aquabats, Barker eventually stood in for then Blink 182 drummer Scott Raynor, at first temporarily and then on a permanent basis from 1998 onwards. 
Since then, Barker has sold tens of millions of records with Blink 182 and other projects, touring the world extensively, and recently married American reality TV star, Kourtney Kardashian. 
Travis Barker Drum Setup Breakdown
Travis Barker has played OCPD drums for the majority of his professional career but has recently been using DW drums. It's unclear whether he's endorsed by DW drums, but he can be seen in videos and live performances using them. 
As of yet, Barker has not commented on why he chose to switch from his long-term Orange Country Drums and Percussion gear to DW Drums. 
Let's take a closer look at the individual equipment that Barker uses and has used in the past, whether when playing with Blink 182 or one of his many other projects. 
Travis Barker's Cymbals
Travis Barker often uses his array of cymbals to fill up the sound of Blink 182's songs. As the band is a three-piece, their music is quite minimalistic, and therefore Barker's cymbals provide depth and decoration when they perform live. 
Barker is endorsed by the iconic cymbal manufacturer Zildjian, who have released signature sets based on his preferences. 
The hi-hats that Barker uses are the 14" A Custom Mastersound set, which produces a crisp, tight sound when closed and can reach high volumes when played open. An 11" K Custom Hybrid splash cymbal is also a staple of his drum set, used for accenting and variation. 
Three-ride cymbals are commonly found on Barker's live drum set. First, there's the smaller 20" K Ride, which is more of a crash/ride hybrid cymbal. Then there's the slightly larger Brilliant A Sweet Ride cymbal, which at 21" in diameter, produces a bright, expressive tone. 
The final ride cymbal that Barker often uses is the 24" K Light Ride, which produces a powerful, clear sound and is perfect for his style of heavy rock and punk drumming. 
In terms of crash cymbals, Barker utilizes the 20″ Oriental Crash of Doom, which cuts through the mix like a hot knife through butter. 
Travis Barker's Snare Drum
Travis Barker was initially a snare drummer in a marching band, which explains why this particular drum is such an integral part of his style. Barker's main snare head, whether he's playing his DW or OCDP set, is the Remo Emperor X, which is most often 14" in diameter. 
His OCDP snare is renowned for its crisp, thick sound, with a fast attack that is ideal for rock music. It's also incredibly durable and roadworthy – which is very important considering how much punishment Barker gives his snare during live performances!
When Barker is playing in his various hip hop and electronic projects, he's more likely to use a 13" or 10" version of the Emperor, with the bottoms consisting of Ambassador weight heads. 
Travis Barker Drum Kit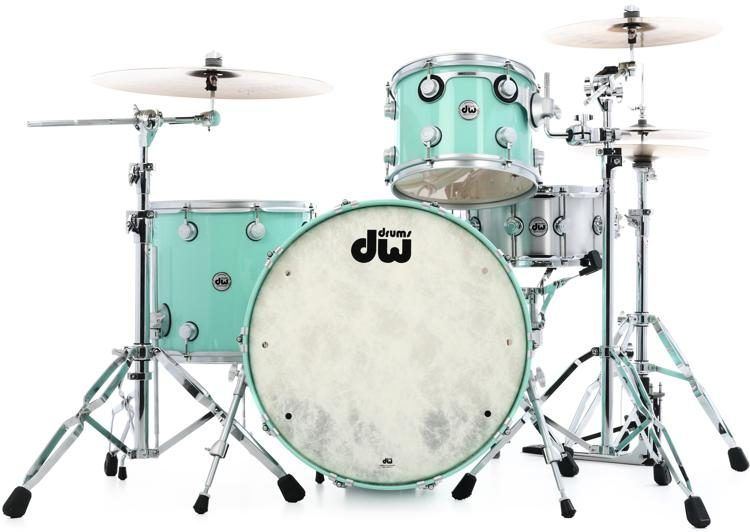 Until recent years, Travis Barker was mostly seen using a customized OCDP drum set, which he called the "Cocktail Kit." This drum set was quite unconventional but seemed to fit Barker's drumming style perfectly. In addition to his cymbals and snares, the kit consisted of the following:
15×24" kick drum

15 x 24" floor tom

10×6" tom
More recently, Barker can be seen using DW drum sets in videos that he's put out and when playing live with Blink 182 on the band's reunion tour. 
Travis Barker's Drum Heads
For a drummer that hits as hard as Travis Barker, using the right drum heads is of paramount importance. As we've discussed, he uses a Remo Emperor X on the snare, which is tuned pretty tight. 
On both heads of his kick drum, Barker uses the Remo Clear Ambassadors, which he also uses on the batters of his toms. However, on the bottom of his toms, he opts for Remo's Clear Emperors. 
Travis Barker's Drum Hardware and Other Gear
In terms of hardware, Travis Barker is endorsed by DW. His kick drum pedal of choice is the DW5000 single pedal, and he uses gold-plated hardware made by the American manufacturer. His rims are made by Gauger. 
Barker has been endorsed by Zildjian for his sticks for many years and uses his own signature Travis Barker Model sticks, or the Travis Barker Double sticks. He has his signature CLS Rock Ridge Rider cowbell made by LP, also seen on his live drum set. 
Audix microphones also endorse Barker, so you'll often see him using their dynamic and condenser mics when recording. He also has his own signature cymbal and drumstick bags.
Bands and Associated Acts
Blink 182 is one of the best-selling rock bands of all time, with the longest-serving and current lineup consisting of Mark Hoppus on bass and vocals, Tom DeLonge on guitar and vocals, and of course, Travis Barker on the drums. 
The band began its career in 1992, formerly called "Blink," and spent the majority of the 1990s independently building a fanbase and touring extensively. In 1999, their third album, Enema of the State, propelled them to mainstream success. 
Prior to joining Blink 182, Barker was the drummer for the California rock band the Aquabats, with whom he achieved some commercial success in 1997 and 1998 shortly before joining Blink 182. 
Alongside DeLonge, Barker formed the rock band Box Car Racer in 2001, releasing their self-titled debut album in 2002. The album was a commercial success but would be the only release from the group to date. 
Barker has also played drums, produced many tracks in the hip-hop and rap genres, and released the album Fix Your Face under the name TRV$DJAM in collaboration with Adam Goldstein in 2009. 
What Makes Travis Barker a Great Drummer?
While Travis Barker may not be the most technical drummer ever, he's popular due to his powerful style, personality, and the innovative drum parts he's composed for Blnk 182 and the other projects he's been involved with. 
When playing live, Barker combines theatrics and technique, toeing the line between putting on an act and retaining his tightness and timing. 
He's great at using his cymbals to control the dynamics of a song, which is very important when you're playing as a three-piece, as there is more space for the drummer to fill in the midrange and treble frequencies. 
Furthermore, Barker has been very consistent in releasing music over the years. His hip-hop projects introduced him to a new audience and demonstrated that he can play feel-based drums in addition to his signature rock style. 
Frequently Asked Questions
Who Has Travis Barker Drummed For?
Although best known for his work with Blink 182, Travis Barker has played drums for many other artists across a wide range of genres. 
Some notable acts that he has played with include Foo Fighters, Machine Gun Kelly, Avril Lavigne, and Trippie Redd.
Who is Travis Barker's Favorite Drummer and Influences?
Travis Barker has previously stated that his biggest influences on the drums include Tommy Lee from Motley Crew, Alen Van Halen from Van Halen, Led Zeppelin's John Bonham, and Danny Carey from Tool.