We review products independently and our recommendations are genuine. If you purchase through links on our site, we may earn an affiliate commission. Learn more
The Roland SPD-SX is the most popular sampling pad in the music industry. It's used by thousands of drummers and musicians thanks to its extensive sampling features and additional useful options, and it continues to be a tool that every gigging drummer would greatly benefit from.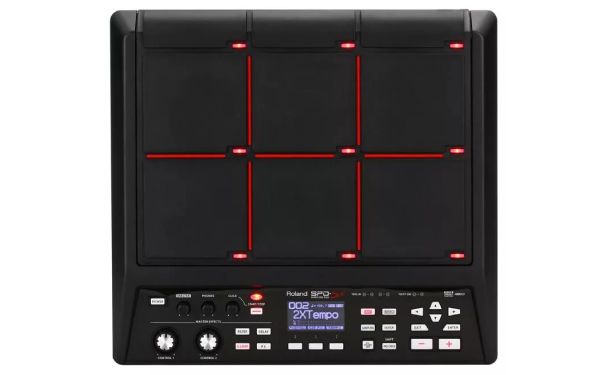 Key Features
900 onboard sounds
16 preset drum kits
4GB of memory
Various FX features
9 velocity-sensitive pads
LED lights that trigger
The Roland SPD SX is one of the most popular sample pads on the market. Roland has created something here that all gigging drummers have realized the need for. The SPD-SX has 9 pads, about 900 onboard sounds, and 4GB available to store your own samples.
You could scratch the surface of functionality by using the device to play electronic percussion sounds. However, diving further into its uses will show you how powerful of a tool it is.
The Roland SPD line has always been popular, and the build features have improved as Roland has improved on the sample pad. Some drummers use the pad to run click tracks for their bands. You get multiple inputs and outputs, so you can run a click track through to the stage in-ears and output without the click through to the front-of-house.
You could also use the Roland SPD SX sampling pad to create a hybrid drum setup. It has space to connect triggers, allowing you to place a few electronic drum pads around the kit and run sound to them through the SPD-SX.
It's an incredibly valuable tool, especially in the world of modern music where electronics are found in most styles. Not only can you play electronic sounds from it, but you can also use it to run backing tracks and trigger lighting rigs.
In this Roland SPD-SX review, we'll delve into why this electronic drum pad is something that every gigging drummer would greatly benefit from.
Sounds
Since the pad is made by Roland, you get many of the popular sounds that Roland is known for producing. One of the key groups is the Roland 808 samples.
The 808 sounds are used incredibly often, especially in hip-hop and rap settings, so this pad comes in handy if you don't want to use a full electronic drum kit to achieve those sounds.
The Roland SPD SX sampling pad also has some acoustic drum kit samples. If you don't have space for a full kit for an acoustic kit, you could plug a kick drum trigger pad into the SPD-SX and use it as a small electronic drum set. This is an ideal setup for playing in places like a coffee shop.
Apart from that, you get an impressive number of melodic sounds and samples. The onboard ones provide a good place to start with playing drums along with a few melodies that you can trigger from the pad. However, loading in your own samples is where the fun really begins regarding that.
The possibilities are endless as you can load in any sound you want to and assign it to a pad. You just need to record it or find a sample, load it onto the pad using the Wave Manager app, and assign which pad the sound will be triggered by.
Build Quality
The build quality of the Roland SPD-SX is quite superb. It feels thick and heavy enough to withstand heavy movements. It also feels durable enough to be able to play quite hard on the pads. So, you don't need to worry if you want to hit it quite hard to keep up with the energy of a live show.
These SPD-SX pads also last fairly long when taken proper care of. The Roland SPD-SX was originally released in 2003, and many drummers who got it then are still using their same pads now.
There have been a few upgrades over that time, and Roland's latest addition is the Special Edition version which has slightly different coloring and more internal memory for sampling.
Although the pad itself is quite durable, you still should be cautious with it wherever you play it. The best thing to do for setting it up would be to buy the stand that Roland makes for their sampling pads.
This will keep it sitting sturdily in place instead of on a surface where the pad could be easily bumped over. If it falls, you may end up with a few problems. That's always the trade-off with electronics compared to acoustic drum products.
Playability
The pads on the SPD-SX are all velocity-sensitive. This means you can play them with varying levels of intensity to bring out different volumes of sound. They feel about as natural to play as most Roland electronic drum pads do.
You can play snare buzz rolls on the large rectangle pads as well as rimshots and ghost notes. Some of the onboard samples will have two trigger points. One sound will trigger if you hit hard while another will trigger when you hit a bit softer.
The shoulder pads provide a great alternative surface. They're a bit harder, and it often feels more comfortable to play cymbal sounds from them. That's why all the onboard drum kits have the hi-hats triggered from one of the top pads. Thankfully, they're just as sensitive as the bottom rectangle pads.
The other aspect of playability is how interesting the SPD-SX makes it to play your overall drum setup. All the samples and electronic sounds give you the opportunity to play various things along with your acoustic drums.
Value
The price of the Roland SPD-SX is what makes many drummers think twice about getting it. You're going to pay between $700 and $900 to get one of these depending on where you look. That's quite steep, especially for drummers who aren't used to purchasing top-quality gear.
If you're just looking for a pad to add a bit of variety to your setup, you could find a cheaper pad that does most of the same things. However, the Roland SPD-SX is what you need to get if you plan to be a professional gigging drummer.
Since it's the industry-standard drum pad, you may come across gigs that will require you to have one. In this case, it's highly worth the money you're going to pay for it. It also has excellent value for money if you plan on utilizing all the features that it offers.
Interface
The interface takes a while to get used and, to be honest, it's one of the biggest letdowns of the Roland SPD-SX. If you know how to work everything smoothly, it's the perfect machine. However, it's going to take a while to get to that point if you're new to using this sampling pad.
The learning curve is massive, and many drummers don't end up using the pad to its full capabilities because of this.
Thankfully, there are several useful videos on YouTube that teach you all the ins and outs of the pad. You just need to put a bit of time aside and commit to learning how to navigate the interface and use the pad to its full potential.
You'll fall in love with the interface more and more as you get accustomed to using it. It's just a bit overwhelming at the beginning.
Verdict
To summarize this Roland SPD-SX review: if you're looking for a professional level sampling pad, the Roland SPD-SX is the best one that you can get.
It's been at the top of the sampling pad market for years, and it will likely stay there for many more.
It's an essential tool for gigging drummers in the modern music world, and the features the pad offers all add an incredible amount of depth to your drum setup.
Most importantly, the ability to load in your own samples is what makes this pad so good. You'll find pro drummers using this pad to recreate the sounds that artists use on their studio albums. While the pad typically doesn't have those sounds, to begin with, you can load them in using the Wave Manager tool.
It's quite expensive, so you should only invest the money in it if you plan on learning to use it to its full capabilities. If you're only looking for something to trigger electronic drum sounds, you could easily find a pad for half the price.
What Comes In The Roland SPD-SX Box?
Roland SPD-SX
900 sounds
Power supply
User manual
Roland SPD-SX At A Glance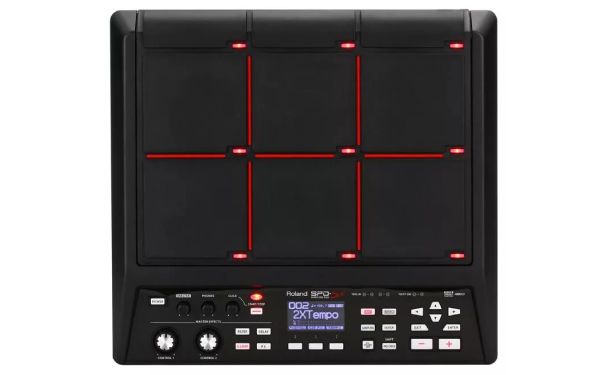 CHECK LATEST PRICE →
Pros
An extraordinary number of features
High-quality Roland sounds
Pads are very sensitive and trigger accurately
Trigger outputs can be used to create a hybrid drum kit setup
Cons
Expensive
Doesn't include a stand or case