In the drumming world, there are four major cymbal brands. These are the most popular cymbal makers that together account for the vast majority of all cymbals sold worldwide.
There are other cymbal manufacturers and we're going to take a look at the best ones, but these smaller brands can't compete with the big four's market dominance. Most of these other cymbal manufacturers craft their cymbals in Turkey, where cymbals originated in the early 17th century.
The best cymbal brands in this guide offer a wide range of cymbal lines to suit all types of players, and they are continually expanding their line-ups with innovative new models.
I'm going to be sharing with you the best cymbal brands that you can trust. They offer great-sounding lines that are perfectly suited for all different styles of music and for drummers of all ability levels. Without further ado, here's my selection of the best cymbal brands I stand behind – delivering excellent quality and value for money.

Zildjian Cymbals
Zildjian is one of the oldest companies in the world, having been founded by Avedis Zildjian in 1623 in Constantinople (present-day Istanbul, Turkey).
Zildjian holds the impressive accolade of being the world's largest cymbal maker. They are the quintessential cymbals, and every drummer is familiar with the iconic brand. As you might expect Zildjian has an insanely long list of endorsers, being firmly established as the largest cymbal brand in the world.
The cymbal lines Zildjian offers are perfect for all types of players. The brand new Zildjian I and S lines are perfect for students, whilst the A custom and K custom cymbal lines are sought after by professionals and record producers. Zildjian also offers the legendary K Constantinople line – the pinnacle of cymbal craftsmanship, renowned for its perfect blended sound quality.
Zildjian's innovative and contemporary cymbal lines sound amazing. Whether you enjoy the dark, warm characteristics of the K cymbal line or the bright, full-bodied sounds of A Custom cymbals, you'll be sure to find exceptional quality throughout the Zildjian range.
The drummers of Coldplay, Linkin Park, Megadeth, Kings of Leon, Fleetwood Mac, Limp Bizkit, Blink 182, and many more all swear by Zildjian cymbals.
Notable Endorsers
Steve Gadd
Travis Barker
Dominic Howard
Dennis Chambers
Meinl Cymbals
Meinl is one of the much newer cymbal companies, having only been established in 1951 by Roland Meinl. Although only recent, Meinl has made an enormous impact on modern music, cementing itself as one of the best cymbal brands in the world.
Meinl is well known for its experimentation with various cymbal alloys and for its innovative cymbal models. They produce cymbals for all types of drummers and have a wide range of lines to choose from.
Meinl produces some of the best quality cymbals on the market and at great prices. For beginners, the Meinl HCS series is the perfect entry level cymbals for drumming, whilst the Meinl Byzance cymbal line is the ultimate choice for seasoned professionals.
A personal favorite of mine is the Classics Custom range which offers top-of-the-range sounds at an unbeatable price.
Many of the world's most advanced and pioneering drummers play Meinl cymbals because their fantastic ranges perfectly complement all types of music.
Notable Endorsers
Benny Greb
Thomas Lang
Chris Coleman
Matt Garstka
Sabian Cymbals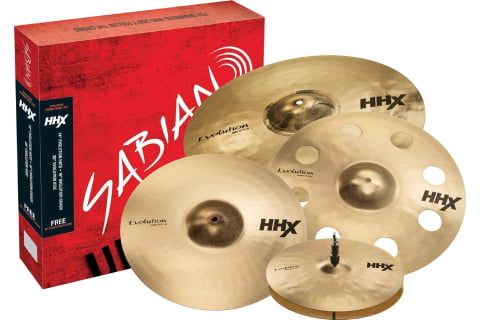 Sabian was formed in 1981, so they might look like a relative newcomer in the cymbal marker. However, Sabian was actually founded by Robert Zildjian, one of the Zildjian brothers. A feud between Robert and his older brother made him leave Zildjian to establish the Sabian brand all alone.
Sabian cymbals are now based in Canada and they are one of the largest cymbal companies in the world. They are renowned for their exceptional quality and diverse range of sounds, in addition to their innovative artist models including the Evolution line.
They produce quality cymbals for beginners and professionals alike, as well as models that sound vintage and dark to bright and modern, and everything in between!
Some of the world's most famous players including the drummers of The Red hot Chili Peppers, Dream Theatre, Biffy Clyro and many more are proud to play Sabian cymbals.
Notable Endorsers
Dave Weckl
Todd Sucherman
Jojo Mayer
Billy Cobham
Paiste Cymbals
Paiste is a Swiss cymbal manufacturer and is in fact the third largest cymbal manufacturer in the world. Paiste was founded in 1906 and they are known for their tremendously diverse ranges of cymbals.
Paiste is well-regarded for crafting fine-quality cymbals that are highly durable and offer full-bodied sounds. Their cymbals offer amazing clarity and a pure tone that is an excellent choice for both live use and recording in the studio. Paiste's cymbal ranges work well for rock, pop, metal, punk, blues, and gospel.
I would personally describe Paiste cymbals as sounding bright, clear, well-balanced, and articulate. They are really fantastic cymbals and no matter what style of music you play, you are sure to find a Paiste cymbal line that you'll enjoy playing.
Notable Endorsers
Nicko McBrain
Stewart Copeland
Chad Smith
Ian Paice
Now we are familiar with the four best cymbal brands in the world, let's take a look at some of the other popular cymbal companies that also craft quality bronze cymbals.
Istanbul Agop Cymbals
Istanbul Agop cymbals are handcrafted in Istanbul – the capital of the cymbal-making world. Agop Tomurcuk, a foreman of the original Zildjian K factory, formed Istanbul Agop in 1978.
Istanbul Agop embraces the ancient traditions of Turkish hand-hammered cymbals whilst taking a progressive approach toward sound and design.
They are renowned for their unique tonal qualities. They are often dark, expressive, and have a complex sound with rich overtones.
The company's meticulous attention to detail, extensive range of series and models, and collaborations with renowned drummers contribute to their distinct reputation in the market.
They have also garnered popularity more recently of late amongst drummers worldwide. Some renowned drummers who endorse or have used Istanbul Agop cymbals include:
Notable Endorsers
Cindy Blackman Santana

Stanton Moore

II (Sleep Token)

Brooks Wackerman
Dream Cymbals
Dream Cymbals was founded in 2005, and the cymbal company has received worldwide success with its premium bronze cymbals at affordable prices. Dream aims to produce quality cymbals that are within reach of every drummer through incredibly competitive pricing. Dream cymbals produce excellent tonal clarity and rich sonics.
The company initially started as a Canadian operation, selling handmade cymbals manufactured in Wuhan, China. Since its inception, Dream Cymbals has gained recognition for its commitment to crafting high-quality cymbals that are also very affordable compared to B20 bronze cymbals from the big four brands.
Notable Endorsers
Bartek Błaszczyk
Sebastian Bauer
Chris Bentley
Øyvind Bergsaune
Bosphorus
Bosphorus is a smaller cymbal company that was started in the 90s. The brand is run by three master cymbal smiths who are often regarded as being the top cymbal smiths living in Turkey, which is the country where cymbal-making history is incredibly rich. 
The brand is most notable for offering rich and complex cymbals. Within the drumming community, you'll mostly see jazz drummers using Bosphorus cymbals due to their tonal characteristics, but the brand offers various lines to cater to different drummers. 
The Master line is the flagship group of cymbals within the Bosphorus range. All the cymbals in this line are beautifully dark and musical. There are a few lines within the range, including the Jazz Master, Black Pearl, Master, Master Vintage, and Syncopation Series. 
Bosphorus then offers a few lines within what they call the Basics range. These are cymbals that offer the standard tonal qualities to expect from different cymbals. The Gold Series cymbals are bright and punchy, while the Turk Series cymbals are raw and dark. 
The Traditional Series cymbals in this line are a bit closer to what you get from Zildjian As, and New Orleans Series cymbals are very articulate for drummers who need plenty of definition from their cymbals. 
Finally, the brand offers a few Signature lines, including the Lyric Series from Ari Hoenig and the Doron Giat line. 
Notable Endorsers
Clark Tracey 

Ari Hoenig 

Doron Giat

Emanuel Harold
Soultone Cymbals
Iki Levy founded Soultone Cymbals in 2003 with the mission of producing better quality cymbals than the big four. Soultone crafts its own cymbals from a unique blend of metals that employs a balance of proper weight and tonal properties.
Soultone has amassed a huge list of professional drummer endorsers including Nick Smith who plays for Snoop Dogg and Steven Adler of Guns N Roses! Although lesser known, Soultone cymbals are a good name cymbal brand.
Notable Endorsers
Nick Smith

Steven Adler

Nick Menza
TRX Cymbals
TRX is another example of one of the many upcoming cymbal companies that are not afraid to compete with the big four. TRX cymbals pride themselves on being strong newcomers, having been established only in 2006.
TRX cymbals were first introduced by David Levine, a former Sabian executive. Levine aimed to create cymbals that offered professional quality at a more affordable price range. TRX quickly gained recognition for their craftsmanship and innovative designs.
The brand offers several distinct lines of high-quality, handcrafted Turkish cymbals that meet the musical needs of contemporary drummers. TRX cymbals sound bold and powerful with sonically rich sound.
TRX became very popular between 2007-2014 due to excellent marketing and promotion through collaborations with many top internet drummers with millions of subscribers, such as Krustina Schiano.
Notable Endorsers
Kristina Schiano

Josh Baker

Charles Streeter
"Rook" Cappelletty
Zultan
Zultan is a German cymbal brand with a fairly unique origin story. The brand started out in the early 2000s, and it was one of the only cymbal brands to purely sell cymbals online with audio files for references of how each cymbal sounded. 
While that was a strange marketing strategy, it proved to be successful, as Zultan cymbals have steadily gained a bit of popularity throughout Europe over the last two decades. 
The brand has 15 distinct cymbal lines, with each one offering slightly different characteristics to cater to various drummers. 
The best cymbal lines from the brand are arguably the Dune, Q, Aeon, and Rock Beat lines. 
The Dune cymbals are dry, having similar tones to Meinl Byzance cymbals. The Q cymbals have dual surfaces, giving them complex tones that change depending on where you strike them. 
The Aeon cymbals are relatively bright, but they're still mellow and musical enough to sound great in most styles. The Rock Beat line includes all the brightest and punchiest cymbals that the brand has to offer. These are full-on rock cymbals. 
Notable Endorsers
Sebastian Boyse

Marcus Kniep

Fabian Koke

ZebenDrums
Murat Diril
Murat Diril is a company created by a cymbal smith named Murat Diril. He first worked for a few of the big cymbal brands, but he ventured off to start his own company that offers expertly crafted handmade cymbals. 
The brand offers three main lines of cymbals, which are called the Renaissance Series, Artistic Series, and Superior Series. 
The Superior Series cymbals are a bit jazzier, including ranges that are dry, dark, and complex. 
The Artistic Series cymbals are unique in their designs, with most of them offering arbitrary sound and appearance qualities. 
The Renaissance cymbals are more traditional, with most of them having bright and aggressive tones that fit in rock, pop, and metal styles. 
One of the coolest things about this brand is that you can get them to create custom cymbals. You simply email them your requirements, they send you a quote, and then you get cymbals made for you that sound however you want them to. That's something that larger brands don't tend to offer. 
Keep in mind your custom cymbals may be quite pricey, but the possibilities are endless! 
Notable Endorsers
Cinque Ubangi Kemp

Harvey Mason

Poogie Bell

Evan Stone
Wuhan Cymbals
Lastly, we have Wuhan which is a Chinese cymbal manufacturer that specializes in producing affordable but high-quality cymbals. Wuhan is by no means the finest cymbal company, but they produce great-sounding cymbals at crazy cheap prices.
Wuhan cymbals sound premium considering their budget price tag. A set of Wuhan's B20 bronze cymbals will set you back the same as a set of budget Zildjian cymbals, and honestly the Wuhan's sound far better for the same amount of money.
These cymbals have gained popularity among drummers worldwide due to their amazing affordability and best-in-class sounds when it comes to the beginner market. They are the most affordable B20 bronze cymbals you can buy.