In the drumming world, there are four major cymbal brands. These are the most popular cymbal makers that together account for the vast majority of all cymbals sold worldwide.
There are other cymbal manufacturers and we're going to take a look at the best ones, but these smaller brands can't compete with the big four's market dominance. Most of these other cymbal manufacturers craft their cymbals in Turkey, where cymbals originate from in the early 17th century.
The best cymbal brands in this guide offer a wide range of cymbal lines to suit all types of players, and they are continually expanding their line-ups with innovative new models.
I'm going to be sharing with you the best cymbal brands that you can trust. They offer great sounding lines that are perfectly suited for all different styles of music, and for drummers of all ability levels. Without further ado, here's my selection of the best cymbal brands I stand behind – delivering excellent quality and value for money.

The 'Big Four' Best Cymbal Brands
Zildjian Cymbals
Zildjian is one of the oldest companies in the world, having been founded by Avedis Zildjian in 1623 in Constantinople (present-day Istanbul, Turkey).
Zildjian holds the impressive accolade of being the world's largest cymbal maker. They are the quintessential cymbals, and every drummer is familiar with the iconic brand. As you might expect Zildjian has an insanely long list of endorsers, being firmly established as the largest cymbal brand in the world.
The cymbal lines Zildjian offers are perfect for all types of players. The brand new Zildjian I and S lines are perfect for students, whilst the A custom and K custom cymbal lines are sought after by professionals and record producers. Zildjian also offers the legendary K Constantinople line – the pinnacle of cymbal craftsmanship, renowned for its perfect blended sound quality.
Zildjian's innovative and contemporary cymbal lines sound amazing. Whether you enjoy the dark, warm characteristics of the K cymbal line or the bright, full-bodied sounds of A Custom cymbals, you'll be sure to find exceptional quality throughout the Zildjian range.
The drummers of Coldplay, Linkin Park, Megadeth, Kings of Leon, Fleetwood Mac, Limp Bizkit, Blink 182, and many more all swear by Zildjian cymbals.
Notable Endorsers
Steve Gadd
Travis Barker
Dominic Howard
Dennis Chambers
Meinl Cymbals
Meinl is one of the much newer cymbal companies, having only been established in 1951 by Roland Meinl. Although only recent, Meinl has made an enormous impact within modern music, cementing themselves as one of the best cymbal brands in the world.
Meinl is well known for its experimentation with various cymbal alloys and for its innovative cymbal models. They produce cymbals for all types of drummers and have a wide range of lines to choose from.
Meinl produces some of the best quality cymbals on the market and at great prices. For beginners, the Meinl HCS series is the perfect entry level cymbals for drumming, whilst the Meinl Byzance cymbal line is the ultimate choice for seasoned professionals. A personal favorite of mine is the Classics Custom range that offers top of the range sounds at an unbeatable price.
Many of the world's most advanced and pioneering drummers play Meinl cymbals because their fantastic ranges perfectly compliment all types of music.
Notable Endorsers
Benny Greb
Thomas Lang
Chris Coleman
Matt Garstka
Sabian Cymbals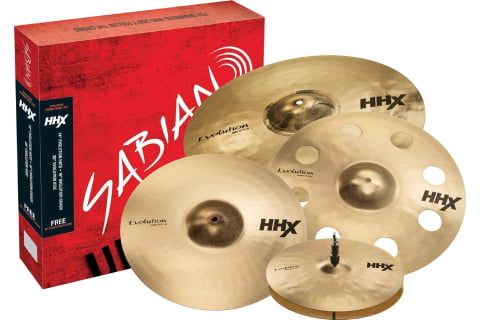 Sabian was formed in 1981, so they might look like a relative newcomer in the cymbal marker. However Sabian was actually founded by Robert Zildjian, one of the Zildjian brothers. A feud between Robert and his older brother made him leave Zildjian to establish the Sabian brand all alone.
Sabian cymbals are now based in Canada and they are one of the largest cymbal companies in the world. They are renowned for their exceptional quality and diverse range of sounds, in addition to their innovative artist models including the Evolution line.
They produce quality cymbals for beginners and professionals alike, as well as models that sound vintage and dark to bright and modern, and everything in between!
Some of the world's most famous players including the drummers of The Red hot Chili Peppers, Dream Theatre, Biffy Clyro and many more are proud to play Sabian cymbals.
Notable Endorsers
Dave Weckl
Chad Smith
Jojo Mayer
Billy Cobham
Paiste Cymbals
Paiste is a Swiss cymbal manufacturer and is in fact the third largest cymbal manufacturer in the world. Paiste was founded in 1906 and they are known for their tremendously diverse ranges of cymbals.
Paiste are well regarded for crafting fine quality cymbals that are highly durable and offer full-bodied sounds. Their cymbals offer amazing clarity and a pure tone that is an excellent choice for both live use and recording in the studio . Paiste's cymbal ranges work well for rock, pop, metal, punk, blues, and gospel.
I would personally describe Paiste cymbals as sounding bright, clear well balanced, and articulate. They are really fantastic cymbals and no matter what style of music you play, you are sure to find a Paiste cymbal line that you'll enjoy playing.
Notable Endorsers
Nicko McBrain
Stewart Copeland
Dave Lombardo
Ian Paice
Other Popular Cymbal Brands
Now we are familiar with the four best cymbal brands in the world, let's take a look at some of the other popular cymbal companies that also craft quality bronze cymbals.
Dream Cymbals
Dream Cymbals was founded in 2005, and the cymbal company has received worldwide success with their premium bronze cymbals at affordable prices. Dream aims to produce quality cymbals that are within reach of every drummer through incredibly competitive pricing. Dream cymbals produce excellent tonal clarity and rich sonics.
Istanbul Agop Cymbals
Istanbul Agop cymbals are handcrafted in Istanbul – the capital of the cymbal-making world. Agop Tomurcuk, a foreman of the original Zildjian K factory, formed Istanbul Agop in 1978. Istanbul Agop embraces the ancient traditions of Turkish hand-hammered cymbals whilst taking a progressive approach toward sound and design.
Soultone Cymbals
Iki Levy founded Soultone Cymbals in 2003 with the mission of producing better quality cymbals than the big four. Soultone crafts their own cymbals from a unique blend of metals that employs a balance of proper weight and tonal properties. Soultone has amassed a huge list of professional drummer endorsers including Nick Smith who plays for Snoop Dogg and Steven Adler of Guns N Roses! Although lesser known, Soultone cymbals are a good name cymbal brand.
TRX Cymbals
TRX is another example of one of the many upcoming cymbal companies who are not afraid to compete with the big four. TRX cymbals pride themselves as being strong newcomers, having been established only in 2006. TRX offers three distinct lines of high quality, handcrafted Turkish cymbals that meet the musical needs of contemporary drummers. TRX cymbals sound bold and powerful with sonically rich sound.
Wuhan Cymbals
Wuhan is a Chinese cymbal manufacturer that specializes in producing affordable but high-quality cymbals. Wuhan is by no means the finest cymbal company, but they produce great sounding cymbals at crazy cheap prices. Wuhan cymbals sound premium considering their budget price tag. A set of Wuhan's B20 bronze cymbals will set you back the same as a set of budget Zildjian cymbals, and honestly the Wuhan's sound far better for the same amount of money.