Drum manufacturing has come a long way. Competition between the top drum brands allows for continuous research and development into creating innovative new drumming products.
The good news for buyers is that features found in top-of-the-range drum sets trickle down and find their way onto more affordable entry-level kits!
In this guide, I'm going to be sharing with you the very best drum manufacturers in the world today. These drum brands all produce high-quality products that you can trust. These drum manufacturers have all been around for a long time, and have their drum sets played by the best pros in the business.
Without further ado, and in no particular order, here's my selection of the best drum brands I stand behind – delivering excellent quality and value for money.

Pearl Drums
Pearl is the best-selling drum manufacturer of all time – and for good reason! They sell more drums than anyone else all around the world because they produce fantastic quality drums at great prices. The Pearl musical instrument company is headquartered in Japan, and the company was established in 1946.
Every drummer will likely play on a Pearl Export drum set at some point on his or her journey. It's the No.1 selling drum set of all time. With the Pearl Export drum set, Pearl has truly set the industry standard for a reliable and dependable drum kit that can be obtained at an affordable price.
From their entry-level Pearl Roadshow drum set to the bespoke Masterworks series, Pearl's quality is easily distinguishable throughout their product line.
Pearl drums has established a solid reputation as one of the best drum brands of all time, and Pearl offers excellent drum sets to suit all different price ranges.
Notable Endorsers:
Dennis Chambers
Todd Sucherman
Mike Mangini
DW Drums
Up next on my list is DW, also known as Drum Workshop. The drum company was established in 1972, and although a relative newcomer compared to other drum manufacturers, they have cemented themselves as one of the best drum brands through tireless innovation and dedication to improving the way drums are made.
DW drums, pedals, and hardware represent the gold standard in the drumming world. They are widely regarded as one of the best drum brands and they are the professional's choice. You'll be sure to see these drums appear on drum risers on festival stages and arenas around the world!
But quality drums can cost a lot. DW drums are not cheap – they are products for the most discerning drummers. If you can afford to get your hands on a DW collectors drum set, then you should jump at the opportunity!
Notable Endorsers:
Virgil Donati
Thomas Lang
Eric Moore
Ludwig Drums
Ludwig is one of the oldest drum manufacturers in the world, having originally been established in 1909. Ludwig drums have been played by some of the greatest drummers of all time including John Bonham, Keith Moon, Ginger Baker and so many more.
One of the most famous names in drumming, Ludwig drums has a long-standing history of producing beautiful-sounding drum sets. Ludwig helped to innovate the modern drum set and many of their vintage kits are the most in-demand collector's items today. The company was famous for producing some of the best acrylic drum sets available.
You can be confident that Ludwig is one of the best drum brands around, having gone from strength to strength for over a century.
Notable Endorsers:
Ringo Starr
Alex Van Halen
Questlove
Tama Drums
Tama is the self-declared 'strongest name in drums'. Tama drums is definitely one of the most popular drum brands, producing some of the best drums, pedals, and hardware in the industry. Tama was officially established in 1979, but the company had been producing drums since 1966.
The Tama drums range is exceptional, and the brand produces some of the best beginner drum sets right through to professional kits. The company offers an incredible selection of products including a huge array of killer-sounding snare drums, and excellent drum hardware.
Tama also produces some of the most widely used drum hardware and some of the bass drum pedals including the Tama Iron Cobra bass drum pedal. The Iron Cobra range is without a doubt some of the most widely used hardware in the business because of its reliability, build quality, and value for money.
Notable Endorsers:
Mike Portnoy
Lars Ulrich
Simon Phillips
Gretsch Drums
Gretsch crafts really beautiful-sounding drums. They are indeed very classy and produce incredible warm tones. Gretsch drums was founded in 1883 and the company has been producing fantastic drums for over 130 years! They are also well-known for making awesome guitars.
Gretsch is one of the more expensive drum companies, and they have a distinctive quality to them. When you sit behind and play a Gretsch drum set you can feel the difference. The drum shells and the hardware they adorn are some of the best in the business.
Even the more affordable Gretsch drums offer amazing sounds for the price. Gretsch is a great name and definitely one of the best drum brands you can trust!
Notable Endorsers:
Vinnie Colaiuta
Taylor Hawkins
Phil Collins
Yamaha Drums
Yamaha was founded in 1967 and they are by far the largest company within this list. Yamaha is a huge Japanese corporation that manufactures everything from motor engines to musical instruments. One thing is for sure, and that is they produce awesome drums!
Yamaha is one of the most respected big brands in music, and musicians trust Yamaha for exceptional quality, reliability, and value for money.
All of the drums and hardware Yamaha produce are durable and of high quality. The Yamaha Stage Custom drum set has set the industry standard for over 30 years thanks to its great sounds at an affordable price point.
Higher up the ladder, you will find Yamaha's top-of-the-line drum sets, played by many of the biggest-name drummers you're likely to encounter!
Notable Endorsers:
Dave Weckl
Steve Jordan
Carter Beauford
Mapex Drums
Mapex is one of the newest drum brands having been established only in 1989, but they have certainly made a large impact within a short space of time. Mapex knows how to make great drum sets, and they offer exceptional value for money compared to some of the other well-known drum manufacturers.
Unlike some other drum companies, Mapex produces drum kits with premium and exotic woods at mid-range price points such as the Armory Series and Mars series. The Mapex Saturn drum set is their flagship kit, and this still costs half as much as some competitors top of the range kits.
Mapex produces great-quality drums at unbeatable prices. Whether you are looking at their affordable drum kits or professional level lines, Mapex drums boast high-end features you will have a lot of fun playing.
Notable Endorsers:
Chris Adler
Dom Famularo
Carter Beauford
Sonor Drums
Sonor was founded in 1875, and the company has ever since been on a mission to produce the best quality drums and percussion available. Sonor is a German company that crafts such beautiful drums, and it's easy to see why Sonor has an enormous worldwide appeal within the drumming community.
Sonor offers a range of premium drum sets including the SQ2, SQ1, and vintage series. They don't produce entry-level drums, these are drums for serious drumming enthusiasts.
There is no doubt that Sonor is one of the most prestigious drum brands in the world today producing bespoke drums.
Notable Endorsers:
Aaron Spears
Benny Greb
Danny Carey
PDP Drums
PDP drums (also known as Pacific Drums) are an offshoot company of the distinguished DW brand, and these drums are designed to offer boutique-inspired features at affordable prices that are accessible to most drummers.
The brand was founded by DW in 1999 and PDP is now a well-known name within the drumming world. These drums are stylish and they sound great for the money. The Concept series maple and birch drums offer a lot of bang for your buck.
They don't have a lot of artists because the professionals will be playing DW drums instead. This is understandable, as these are the top-of-the-range drum sets from their sister company. But you will find DW artists often sporting PDP equipment live such as Chad Smith from The Red Hot Chili Peppers.
Notable Endorsers:
Chad Smith
Eric Hernandez
Cobus Potgieter
Ddrum Drums
Ddrum is a drum manufacturer that gained huge success in the 1980s with its invention of drum triggers and electronic drum pads. Ddrum produces a wide range of acoustic drums and electronic drum amplifiers. They even produce innovative hybrid drum sets.
Ddrum has less of a presence than the other drum manufacturers featured within this list, but they have a solid artist roster and a great range of products that offer good value.
Notable Endorsers:
Vinnie Paul
Carmine Appice
Terrail Moody
SJC Drums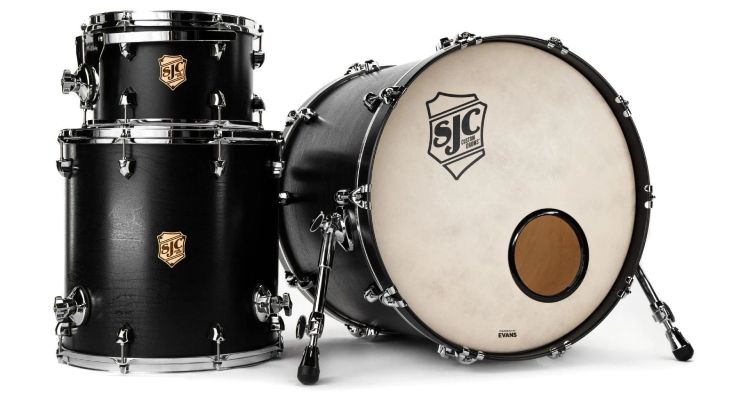 SJC is primarily a custom drum kit company. That means that they create drum kits with niche specifications after drummers personally order them. However, there are a few drum kits that the brand creates in bulk to sell in music stores. 
The brand's biggest demographic is rock and punk drummers, with SJC drum kits being heavily used throughout the early 2000s rock era. At that time, every rock and punk music festival had dozens of SJC drum kits being used. 
Unfortunately, the brand isn't as popular as it used to be, with drummers tending to favor the bigger brands with larger product ranges. 
If you want to buy a ready-made kit from SJC, you need to choose between the Pathfinder and Tour Series. The Pathfinder is the more affordable drum set, while the Tour Series is a high-end professional one. 
The brand then has a wide range of top-tier snare drums. While these can also be custom ordered, there are a lot more ready-made ones than there are drum kits. Getting one of these snare drums is a great way of experiencing SJC quality and being part of the family. 
Even though this drum brand isn't as popular as it used to be, there are still many high-profile drummers that endorse the company. Here are a few names to check out: 
Josh Dun

Jay Weinberg

Sage Weeber

Kristina Schiano
Natal
Natal Drums is a brand based in Bletchley, England. It's nowhere near as big as all the other drum brands that we've mentioned, but the popularity of Natal kits has steadily been growing over the years. 
At this point, most musicians in the UK are aware of Natal drums, while most musicians from around the world haven't had the opportunity to play them. 
The drum brand got a bit of a push in 2010 when it was bought by Marshall Amps. It was quite small before then, and the acquisition saw more funds going into distributing the kits. 
An interesting fact about the brand is that it wasn't a drum manufacturer at first. Natal made fiberglass percussion instruments that were used by many famous drummers. The drum kits came later, but that's mostly what people associate the brand with now. 
There are four main drum kit lines in Natal's product line. These are called the Originals, Cafe Racer, Arcadia, and DNA Stealth. 
The DNA Stealth kit is a dedicated low-volume drum set that is purely designed for quiet practice sessions. The other three types of standard drum kits. 
Interestingly, there isn't much of a quality difference between the three remaining lines. The Originals drum sets are the brand's flagship sets, but the Cafe Racer and Arcadia drum kits tend to sound just as good. 
Here are a few popular drummers that use Natal drum kits: 
Adam Marko

Mini Fairhurst

Craig Blundell

Jonathon Rodney
Premier Drums
Premier is another drum brand that was massively popular decades ago. The brand lost a lot of popularity throughout the years, but you can still find some top-quality Premier kits being sold. 
The drum brand has a very rich history, seeing as it was started over 100 years ago. Many modern drum kit designs were innovated by people working at Premier, and these kits were used by some of the earliest drumming celebrities. 
The current Premier product range is very simple. There are four main kits, with each one having differing quality. 
The flagship kit is called the Premier Elite, and the drums have a mixture of maple, birch, and beech in the shells. The next kit down is called the Genista, and it was one of the most popular kits from the brand about a decade ago.
You then get the Artist and Revolution kits. The Artist kits are intermediate level, while the Revolution kit is for beginners. 
Here are some drummers that still endorse Premier Drums: 
Bob Richards

Colin Jones

Dave Forster

Julien Brown
Summary
So there we have it! These drum companies featured are the biggest players in the industry. They are not bespoke drum brands, these are global drum manufacturers that offer a wide range of products for beginners right through to seasoned professionals. Thanks for reading!