Custom drum kits are highly sought-after by many drummers. You'll generally get these kits from custom brands, also known as boutique drum companies.
Custom drum companies are able to create drums specifically for you, allowing you to pick and choose whatever wood types, shell sizes, shell hardware, and color options you want for your dream kit.
It's a much more personal experience than buying a drum kit from one of the mainstream drum brands. So, it's something all drummers should consider looking into at some point in their drumming journeys.
In this article, we're going to look through some of the best custom drum makers in the drum world and see just what makes their custom kits so good.

What Makes a Custom Drum Company?
The biggest thing that makes up a custom drum company is the fact that they don't mass produce drum sets in particular settings and sizes.
Instead, they work on custom orders. You can send a request to a custom drum company to have a drum set made in the ideal configuration of your choosing.
With that being said, many custom drum companies make a fair number of drums to send to big retailers like Sweetwater. For example, you can buy A&F drums from Sweetwater that you don't need to custom order.
It's slightly cheaper to buy the drums that way, but you don't get the luxury of choosing exactly what the drums are or how they're made.
What Can You Customize When Buying a Custom Kit?
The world is your oyster when it comes to options. The biggest things that people tend to customize are the sizes of the shells, what material they're made of, and what hardware they're put together with.
One very popular option that you can get from custom drums is solid stave shells. These shells have solid wood that isn't interrupted by multiple plies, allowing sound to travel with no interference.
They give you a truer sound from the drum shell, also allowing the vibrations from the top bearing edge to ring very freely through the shell. You don't commonly find these shells in standard drum sets.
You also have the option to add reinforcement rings to all the drums shells. These raise the pitch of the drums and dry out the tone a bit. They're perfect for drummers who want tight and controlled sounds from the drums.
There are several more options other than solid stave shells and reinforcement rings. You'd just need to find out what they are from the company that you're getting a custom kit from.
How Much Are Custom Drums?
Speaking of price, you should know that custom drums are typically more expensive than most of the drum kits from major brands. Major drum brands work on mass production, allowing them to keep the costs of making the drums down.
Boutique drum companies, on the other hand, typically work very personally with each drum kit they make. So, the production process is longer and more expensive. Most custom drum companies don't have tier levels to their kits, so they all end up being higher-priced.
Major drum brands always have beginner, intermediate, and pro drums. This allows you to fit into a budget range and get drums that you can easily afford.
Drummers who want full custom drum kits normally need to save a fair amount of cash to buy them.
The Top Custom Drum Companies
A&F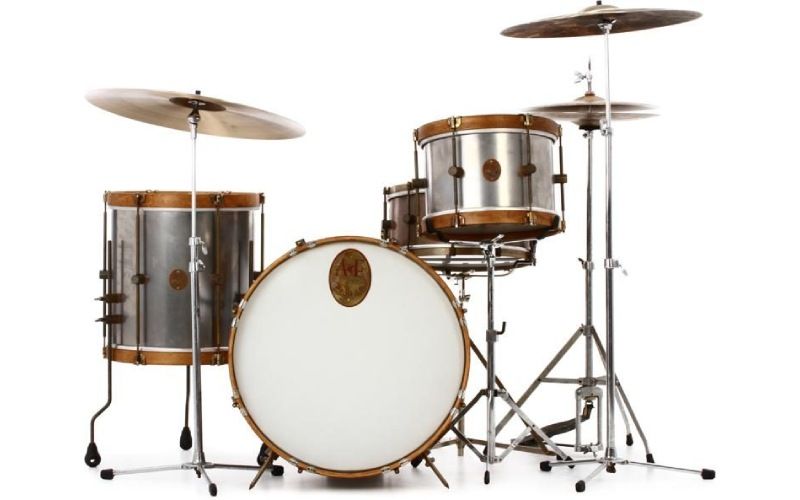 A&F is an incredibly popular custom drums company at the moment. They have a few artists with a large following that play their drums, so they've steadily been increasing in popularity over the last few years.
The company was started by Remy Antoun who was a prolific session drummer, recording albums with dozens of popular artists. The idea for custom drums came from him creating a snare drum that mimicked the vintage drums that he used while playing in recording sessions.
The company is based in Austin, Tx. However, you can see drummers from all over the world playing their drums, and also their unique looking drum hardware.
A&F drums are labeled as luxury drums, giving you the absolute peak of drum craftsmanship. An A&F custom drum set is fairly expensive because of this!
Popular artists that play A&F drums:
Dan Mayo
Brody Simpson
Ben Jackson
Craviotto
The Craviotto company was founded by Johnny Craviotto in 2004. The company specializes in creating solid shell drums and kits. Solid shell drums are some of the most sought-after drums and they produce extraordinary tones.
Since the tones of these custom drums are so focused, you'll find that most of the drummers who play Craviotto kits are jazz drummers. They love these drums because they sing a lot more than other available drum sets.
Unfortunately, Johnny Craviotto passed away in 2016. But the company is still going strong and handcrafting some of the best sounding custom drums you can get. They're based in Nashville, TN.
Popular artists that play Craviotto drums:
Steve Lyman
Ronnie Vannucci
Chris McHugh
SJC
SJC is a massively popular custom drum kit company, especially in the rock and punk music scenes. It was started as a hobby by Mike and Scott Cibrari in 2000. Their custom drums blew up after a few years, and now they have huge names playing their kits.
SJC custom drums are a bit more vibrant than drums from other custom companies. Most of their kits have whacky finishes with eclectic colors. This makes them fantastic visual points in rock and punk bands.
The company lost a bit of steam for a while due to a feud between the two brothers. However, all the issues have been fixed and the company has been back on track in the last few years. They're primarily based in Massachusetts.
Popular artists that play SJC custom drums:
Josh Dun
Tre Cool
Jay Weinberg
Pork Pie
Pork Pie is a custom drums company based in California. It's headed up by Bill Detamore who's been making custom drums since 1987. One of the best things about Pork Pie is that you can send Bill existing drums for him to modify.
This custom drum maker is also very well-known for making high-quality drum thrones. There are arguably more drummers in the US using Pork Pie thrones than there are drummers that play Pork Pie kits. With that being said, the kits are also fantastic.
You can get almost anything you can think of from Pork Pie when it comes to drum construction.
Popular artists that play Pork Pie drums:
Tim Alexander
Frank Ferrer
Rory Koff
Dunnett Classic Drums
This custom drum company is headed up by Ronn Dunnett who's a highly sought-after drum craftsman in Canada. He's been making his own snare drums since 1978 and has gotten many of his unique designs out to drummers around the world.
While he has made full drum kits before, he mainly focuses on making snare drums. He also mainly specializes in making metal snares. All of Ronn Dunnett's snare drums have an immense amount of work and effort put into them, leading them to sound extraordinary in every setting you put them in.
A Dunnett snare would be a fine addition to any snare drum collection.
Popular artists that play Dunnett snare drums:
Stanton Moore
Dennis Chambers
Todd Sucherman
C&C
C&C is a boutique drum company run by Bill Cardwell. They make vintage drums that take influence from all the drum sets that were around in the 40s to the 70s. Bill started making the drums after restoring vintage drums and seeing what made them sound the way they did.
The company is based in Gladstone, Missouri. Most drummers who buy their drums tend to get them as collector's pieces. There's something special about vintage drums, and C&C does a fantastic job in bringing the vintage qualities out in their drum kits.
Popular artists that play C&C drums:
Sean Carey
Ian Chang
Francois Comtois
Do Major Brands Make Custom Drums?
Most of the major drum brands make custom drums. However, their custom drums are at the absolute top of their product lines, meaning they're the most elite and expensive drums that they offer.
Pearl has the Masterworks Series, Tama has the Star line, and DW has the Collector's Series. You can find standard setups from each of these product lines, but you can also send in a direct request to the company to have a drum kit made for you with your preferred specifications.
Adam Tuminaro recently got a Masterworks Series from Pearl. He explains the whole process of ordering a custom drum kit from a major brand in this podcast:
Why Do People Love Custom Drums?
There's something special about having a drum kit that has been personally crafted by someone who loves making drums. There's more heart and soul that goes into it than a drum kit that was made in a big factory.
It's also great to have a drum kit that you chose the exact specifications for. If you go the route of ordering a kit from a boutique company, you get to choose the wood that is used along with the sizes and the hardware.
Whatever ideas you have for drums in your head will come out in the finished product. It's a great feeling to experience, and it always makes drummers very attached to their custom kits.
Are There More Custom Drum Companies Out There?
There are drum craftsmen all over the world. The chances are very high that you have a small boutique drum company operating somewhere near you. While the companies mentioned above are the most well-known ones, you should find some local companies to check out and support as well.
A local custom drum company might also have drums that are cheaper than the ones from the major companies, so it's worth a look.
Final Thoughts
If you've never thought of getting a custom drum kit, you should consider getting one in the future as it's a great experience to go through for any drummer. If a full drum kit is too much, you could also just get a snare drum.
Having drums made specifically for you is something that every drummer should experience at some point in their drumming career. Ordering a custom drum set is a great way of getting drums that you won't find from any major drum brand.