If you want to study drums in a tertiary institution, you may be wondering what your options are. Picking a college for drummers can be a daunting task if you don't know where to look.
So, I've put together a list of some of the best drum colleges for you to consider. Every one of these drum schools has had successful drummers graduate through their systems and join the professional music world.

8 of the Best Drum Schools
Musician's Institute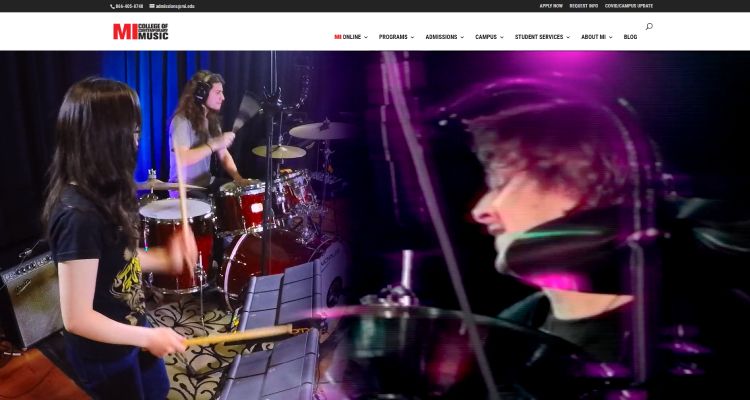 Musician's Institute is one of the leading music colleges in North America. Based in Hollywood, they have excellent programs tailored for all musicians, including drummers. You can sign up to do a full music degree or a few short courses.
A few of the drum teachers there are Jeff Bowders, Gianluca Palmieri, and Gorden Campbell. Some notable names of drummers who have graduated through the systems are Ray Luzier, Ralph Alexander, and Andres Torres.
One of the best things about MI is that they often get popular artists to come to perform and do workshops for all the students.
Berklee College of Music
Many people will argue that Berklee College of Music is the top music college in the world. Students from all over the world go there to study music as it has highly extensive music programs. The college is located in Boston and boasts being the largest music college in the world. Hundreds of drummers study there every year.
You can be taught drum lessons by famous names such as Dave DiCenso, Henrique De Almeida, and Kenwood Dennard. Some of the most recent successful names to come through Berklee are Matt Gartska, David Cola, and Sean Wright.
University of North Texas
The University of North Texas is another highly regarded music school that boasts many drummer success stories. They put a big emphasis on jazz studies, so it's a drum school to go to if you want to learn jazz drums.
You'll be taught by drummers such as Quincy Davis, Jose Aponte, and Stockton Helbing. UNT is famously known as the institution where the band, Snarky Puppy, first started. They're one of the leading jazz/fusion bands in the world at the moment. The drummer, Robert 'Sput' Searight, was a dedicated student at the college.
Drummer's Collective
If you want to attend a dedicated drum school, you should check out Drummer's Collective in New York. They have an extensive music program where they teach you how to play every style of music and to survive in the music career world. This comes in the form of a 2-year diploma.
However, their most popular thing is their short courses. They make it incredibly easy to sign up for a short amount of time to follow a particular topic and nail it by the end of the course.
Some of the drum teachers are Dave Previ, John Longstreth, and Leroy Clouden.
Los Angeles College of Music
The Los Angeles College of Music is another popular drum school to consider signing up for. The college is in the heart of LA which is a booming area for performing musicians.
They offer performance diplomas for varying instruments, and they have a popular drum set program. The program is highly focused on drumming and how to build a career around it.
Some of the drum instructors are Ralph Humphrey, Dave Beyer, and Tim Curle. Some established drummers who graduated from LACM are Shaun Horton, Nate Wood, and Paul Kaiser.
Leeds Conservatoire
If you want to study drums somewhere in the UK, one of the best drum colleges to go to is Leeds Conservatoire. They're an industry-focused music school that will give you a complete drum education that will prepare you for everything in the music business. They offer several different BA degrees where you can choose drums as your instrument of choice.
Some of the drum instructors there are Caroline Boaden, Pete Flood, Joshua Blackmore, and Tim Giles.
The Royal Academy of Music
Another excellent UK drum school, the Royal Academy of Music is located in the heart of London. This is arguably one of the most popular places for musicians to be in England if you're looking for performing opportunities.
If you want to study drums here, you'll need to sign up to do a jazz degree. Your teachers will be accomplished drummers such as Martin France, James Maddren, and Ian Thomas.
BIMM Institute
The BIMM Institute has several campuses scattered around the UK. It's a popular school for drummers as the college provides a holistic approach to drum education. They originally started as a drumming school but branched into other instruments over time.
They offer a diploma and an undergraduate degree for drumming, and both of those courses involve learning how to survive and thrive as a drummer in the music industry.
There are dozens of drum lecturers across all the campuses, so you'll need to research which ones will teach you depending on which campus you plan on going to.
Things to Know Before Going to Music School for Drums
Qualification vs Experience
A question that often gets asked with this topic is whether you actually have to study drums to become successful in the music industry. Unless you're playing in a pit orchestra or applying to be a drum teacher somewhere, you're most probably never going to be asked for your drumming diploma certificate.
However, the best thing about going to study drums at a tertiary institution is the networking that can be done. You get to meet so many like-minded people that are also trying to rise through the ranks in the music industry.
You'll meet loads of drummers, but it's more important that you meet other musicians so that you can potentially form bands and make connections that will help you later on in life.
You can make it to the top of the music industry without ever studying the drums at a drum college. However, it will arguably be easier to make it if you study thanks to all the networking opportunities that are offered to you.
I'd even suggest studying drums online with an online drum school like Drumeo, which has some of the world's best drummers and instructors like Larnell Lewis, Bruce Becker, Todd Sucherman, and many more guiding you through thousands of high-quality lessons.
Playing Other Instruments
Something that you should be aware of is that you're most likely going to be playing a second instrument. This is especially true if you want to get a music degree.
Drums don't have any melodic background, so music students who study drums typically need to play a bit of piano in order to understand what's happening in their music theory and composition classes.
You won't need to worry about this if you plan on doing a drum performance diploma. But it will definitely come up when studying jazz or any other intensive music degree program.
Some degree programs even require you to know about melodic theory before you do the audition to get into the program. If you can play the drums incredibly well, but can't do sight-singing or write a few scales out, you may not get in.
So, it can be very helpful to learn a few basics of playing piano before you apply to study drums at any of these institutions!
Final Thoughts
Going to drumming schools may seem like an expensive venture. However, you'll learn lessons and make memories that are way more valuable than the fees that you paid. While it's good to walk away with a qualification, you need to realize that studying the drums is so much more than that piece of paper.
If you're planning on studying the drums, choose one of these drum colleges carefully and prepare yourself to have the time of your life.