Drumsticks may not be as flashy or expensive as many of the other pieces of equipment drummers use, but they're equally as important. Finding a drumstick brand, size, and style that perfectly suits your playing is essential if you want to maximize your skills. 
You might be thinking, surely there can't be that much variation between the manufacturer's stick designs? 
In reality, there's a lot that goes into the design and the making of drumsticks. From the materials used to the smoothness of the finish, manufacturers are constantly looking for ways to improve their designs and cater to different playing styles. 
In this guide, we've identified the nine biggest names in the drumstick manufacturing industry. We'll provide a breakdown of their history and reputation, any notable drummers they endorse, and recommend one of their best drumsticks to you. 

1. Pro-Mark
Based in Houston, Texas, Pro-Mark has a long and decorated history that stretches back to the mid-1950s. Founded by a percussion teacher Herb Brochstien, the company became popular due to its experimentation with different types of wood, such as Japanese oak. 
In recent years, Pro-Mark has become highly popular amongst marching band drummers and rock and metal drummers.  
Endorsers:
Some of the best-known drummers who are endorsed by Pro Mark include the brilliant thrash metal drummer Eloy Casagrande from the band Sepultura, the talented Gorillaz drummer Femi Koleoso, and world-renowned percussionist Evelyn Glennie. 
Our Review:
With acorn wood tips and a distinctive design, the Rebound drumsticks by Promark are perfect for rock drummers. They come equipped with a special design known as ActiveGrip, to prevent them from slipping out of your hands during a performance. 
2. Vic Firth
Named after its founder, Vic Firth began manufacturing drumsticks in 1963. Mr. Firth was a professional orchestral drummer prior to starting to company, and after being disappointed by the quality of the sticks on offer, he decided to have a go at making his own. 
Fast forward over half a century and Vic Firth is now widely regarded as the leading drumstick manufacturer in the world, producing over 10 million sticks annually. In 2010, Vic Firth combined with Avedis Zildjian Company, making it even more of a powerhouse in the industry. 
Endorsers:
There are many famous drummers that are endorsed by Vic Firth drumsticks, but three that stand out are Danny Carey from the prog rock band Tool, the legendary session drummer Steve Gadd, and the virtuosic percussionist Jojo Mayer.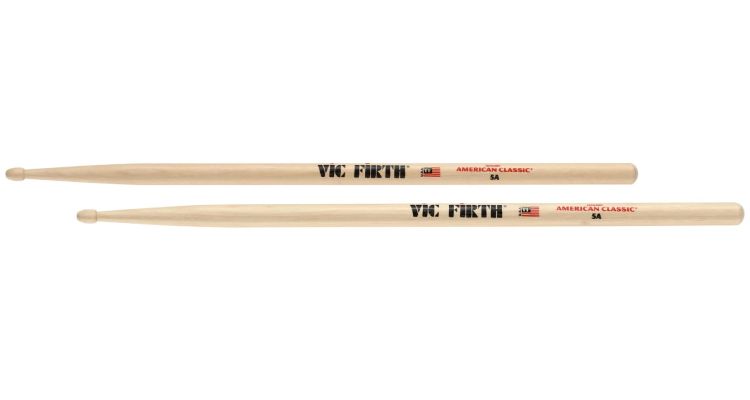 Our Review:
Claimed by Vic Firth to be the best-selling drumstick worldwide, the 5A American Classic is the perfect choice for drummers who play in several styles. Made from durable hickory, these workhorses look and feel awesome. 
3. Vater
Founded in 1956 in Boston, Massachusetts, Vater Percussion is one of the world's leading drumstick producers. The brand is now run by Ron and Alan Vater – the two grandsons of the original owner, Jack Adams. 
The qualities that make Vater sticks so popular amongst drummers is their straightness and durability, which is a result of their increased moisture level compared to other stick brands. 
Endorsers:
Like Vic Firth, Vater's lineup of drummers who use their sticks is brimming with big names and talent. Some who stand out include Chad Smith from the Red Hot Chili Peppers, Steven Adler of Guns N' Roses fame, and Riverdance's Mark Alfred. 
Our Review:
Vater's 5B hickory drumsticks are amongst their best sellers simply because they're great all-rounders. These sticks are light enough to facilitate fast playing, but they also feel substantial enough to promote power and control over your dynamics. 
4. Zildjian
Zildjian is undeniably one of the most iconic and dominant musical instrument brands in history, and despite being best known for their cymbals, they also manufacture some exceptional sticks. 
With a history dating back over 400 years, the company has been responsible for many innovations in percussion. The sticks they produce cater to all musical styles and are incredibly consistent in terms of their quality. 
Endorsers:
Zildjian's list of endorsers includes the likes of Travis Barker from Blink 182, legendary session drummer Aaron Spears, and last but by no means least, Dave Grohl from Foo Fighters and Nirvana. 
Our Review:
Designed in collaboration with Blink 182 drummer Travis Barker, these signature sticks are made from high-quality hickory. They have a round wooden tip and a natural finish and promote speed, control, and velocity while drumming. 
5. Ahead
While Ahead may not have an as extensive or decorated history as the likes of Vic Firth and Zildjian, the brand has built an excellent reputation amongst drummers since it was founded in 1992. 
Ahead is not afraid to experiment with its drumstick designs – and most recently, they have been using aluminum tubing in their sticks, along with replaceable polyurethane covers to make them more durable and efficient. 
Endorsers:
Ahead's most famous endorsers include Rick Allen from the iconic British rock band Def Leppard, Motley Crue's notorious drummer Tommy Lee, and one of the most successful drummers of all time, Metallica's Lars Ulrich. 
Our Review:
Ahead's most popular variety of sticks are the 5B Rock models from the brand's Classic Series. These sticks are great for recording or playing live and boast impeccable longevity, lasting considerably longer than your average 5B's. 
6. Wincent
Founded in 1992 in a remote village in Sweden, Wincent gradually became more and more popular amongst drummers with each product it released. Initially focusing on practice pads and brushes, the brand eventually was employed to make Zildjian's Z-Lites rods in 1998.
Since then, the company has released some innovative drumstick designs, such as the Dualstick in 2004, which combines a mallet and a conventional drumstick into one stick. Today, they're one of the leading drumstick brands around the world.  
Endorsers:
Wincent's roster includes some very skilled drummers. There's Aron Mellergård from the Swedish band Dirty Loops, his fellow countryman Tomas Haake from the band Meshuggah, and Michael Miley from the American rock band Rival Sons. 
Our Review:
These simple sticks are a fine example of Winsent's attention to detail. They are slightly thicker than your average 5As and have an acorn-shaped wooden tip. Durable and smooth, they are suitable for most musical styles. 
7. Meinl
Another heavyweight in the drum manufacturing industry, Meinl boasts over 70 years of experience, and like Zildjian, they are best known for the cymbals they produce. 
However, Meinl has also ventured into the world of manufacturing drumsticks, and this venture has proven to be very successful thanks to some notable endorsements and high-quality stick designs. 
Endorsers:
Some of the most notable names on Meinl's list of endorsed drummers include Maciej "Slimak" Starosta from the band Acid Drinkers, the prolific R&B and gospel drummer Calvin Rodgers, and hard rock drummer Jeeves Avalos from Crown The Empire. 
Our Review:
This signature set of Calvin Rodgers drumsticks is designed to provide you with maximum feel when playing intricate grooves and beats. Perfect for soul and R&B drumming, they're made from high-quality American hickory and designed in Germany. 
8. Regal Tip
Regal Tip was created by drummer Joe Calato when in 1958, he put the brand on the map by coming up with the nylon-tipped stick, which would revolutionize drumstick designs forever. 
Today, it is a world-renowned manufacturer of percussion equipment. 
Endorsers:
Amongst the Drummers that Regal Tip endorses are Grammy-winning artist TreWay, Beau Evans from the Andy Black Band, and John Mayer's longtime drummer, Aaron Sterling. 
Regal Tip Drumsticks – 5B
Our Review:
These simple yet reliable 5B drumsticks by Regal Tip are highly versatile. Whether you need plenty of bounceback from your ride cymbal when playing jazz or the speed and stability for rock, these lacquer-coated sticks will suffice. 
9. Shaw
English drumstick manufacturer Shaw's history dates back to 1866, and they have remained in their native country ever since. Producing a range of excellent sticks and other drumming gear, they've steadily become one of the most popular drum brands in Europe. 
Endorsers:
Endorsers of Shaw drumsticks include the likes of Don Powell from the British rock band Slade, Gilson Lavis, who plays in Jools Holland's Rhythm & Blues Orchestra, and John Keeble of Spandau Ballet. 
Shaw Heritage Series Drum Sticks
Our Review:
Shaw's Heritage Series drum sticks are an excellent option for drummers who want to minimize the chance of their sticks breaking without compromising on speed, feel, and agility. Made from high-quality American Hickory, these sticks are a joy to play with. 
Frequently Asked Questions
What Is The Most Popular Drum Stick Size? 
The most commonly produced drumsticks are 5As, which are usually around 16" in length. These sticks provide enough weight for controlled playing but aren't too heavy for intricate styles like jazz, R&B, or funk drumming.  
Are 7A Drumsticks Good for Rock Music?
Although it's possible to use 7A drumsticks for rock and other related styles of music, most rock drummers opt for heavier sticks like 5Bs. This ensures that the stick won't break as easily when played with a lot of power.