It's no secret that Evans and Remo are the two biggest drumhead brands on the market. Most professional drummers play either one or the other, while the rest of the drumhead brands have far smaller player bases. 
It's impossible to say which one is better, as they tend to offer very similar products with only slightly different tonal qualities. It's all up to personal preference. However, it's good to know those differences so that you know which brand you may like more.
In this guide, I'll break down what both companies are about. I'll explain the common tonal differences, as well as mention a few competing drumhead products. 

Remo Vs Evans: At a Glance
Remo and Evans are the two most renowned drumhead brands in the world. 
Nearly all professional drummers use either Remo or Evans drumheads, with the exception of a few playing Aquarian drumheads.
Remo is known for their drumheads that offer a warm and open sound.

Many drummers describe Remo heads as having a more 'organic' or 'natural' tone.

Evans is known for their modern innovation and brighter and more cutting tones

. Many drummers favor Evans for live use especially in the pop, rock, and metal world.
In terms of products, both brands offer a range of drumheads from single-ply to double-ply with varying thickness, so you can choose based on your playing style and needs. 
When it comes to cost, both Remo and Evans offer drumheads at a similar price range, from budget-friendly options to more premium models. 
The choice between these two brands comes down to personal preference, as they each offer similar product lines to suit all different styles of drumming.
Evans as a Company
Evans is a brand that is overseen and owned by D'Addario, which is a distribution company that also sells drumsticks, guitar strings, and several other accessories. 
Evans is a powerhouse brand in modern drumming. The company is always striving to innovate new creations that make drumheads work better for players. 
Their latest innovation that really kicked off was the Level 360 drumhead system, which saw heads being made that offered better contact with shells and better tuning stability. 
The most popular lines of drumheads from the company are the Evans G1s and Evans G2s. These are the standard single-ply and double-ply heads from the brand. 
They offer far more options than just those, though, with many of them having highly unique designs that cater to specific preferences that drummers may have.
Here are some famous drummers that endorse Evans Drumheads: 
Eddy Thrower
Dennis Chambers
Keith Carlock
Anika Nilles
Chris Coleman
Remo as a Company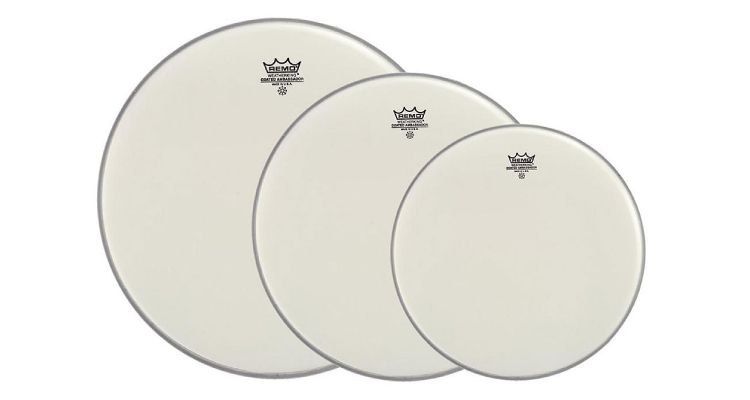 Remo is a drumhead brand that was founded by Remo Belli in 1957. The brand is just as popular as Evans (if not more popular), creating countless drumhead designs that have become incredibly popular since being introduced to the market. 
Remo was one of the first brands to use Mylar. 
These Mylar heads were used as a replacement for the old calfskin heads that drummers used back in the 50s and 60s. It was this innovation that boosted the brand's reach, as the Mylar heads were far easier to maintain. 
A lot of drummers know of Remo due to their cheaper heads being used as stock heads for drum kits from a few brands. When you buy these drum kits, you'll see the Remo logo on the skins. 
However, I wouldn't recommend basing your idea of Remo quality on those heads, as stock heads are always poor. 
Remo's most popular drumheads are the Remo Ambassadors and Remo Emperors. These are their single-ply and double-ply head options. 
However, like Evans, there are plenty of other drumhead lines to choose from. 
Here's a list of famous drummers that endorse Remo Drumheads: 
Dave Grohl
Dave Weckl
Aaron Spears
Thomas Lang
Stewart Copeland
Evans vs Remo Drum Heads
Again, neither drumhead brand is categorically better than the other. Most drummers would be able to pick out heads from either one and be more than satisfied. 
However, it's good to know what the differences are. They may be subtle, but they're there. 
Here are a few points to know when comparing the two famous drumhead brands. 
Biggest Differences
Remo tends to focus on tradition and heritage, offering drumheads that give more open tones with boosted sustain. 
It's easier to get wide-open tones when you equip your drum shells with Remo drumheads, no matter how thick they are compared to Evans options. This is why a lot of old-school rock and jazz drummers tend to prefer Remo heads. 
Evans drumheads offer slightly tighter and more controlled tones. They don't let the drums sing as much, giving more modern sounds. 
While Remo focuses on traditional sounds, the Evans brand is always innovating to create drumheads that are more technologically advanced. This leads them to be slightly easier to work with when tuning drums.
Those are essentially the only differences between the two brands. You'll also only experience those differences by placing drumheads on shells without using any dampening. Once you start dampening your drums, the differences disappear. 
Drum Heads Compared
A good way of seeing the differences square up in a practical way is by looking at the top selling drumheads from each drumhead brand. 
Here is a detailed look at a few different options from each one. 
Remo Ambassadors vs Evans G1
Single-ply drumheads are the best option for getting the most natural tones out of your drums. Your options from each brand are the Remo Ambassadors and Evans G1s. 
Remo's Ambassador drumheads tend to be far more popular. This is due to Remo being the go-to brand for wide-open traditional drum tones. 
However, the Evans G1s sound fantastic when placed on a drum kit. The beauty of both drumhead options is that you can use them as resonant heads as well. 
The G1s offer a bit more attack, making them sound slightly more aggressive than the Ambassadors. The Ambassadors are warmer, offering a rounder tone from each drum. 
I'd recommend going with Remo heads in the single-ply category. They tend to suit drummers better when looking for traditional drum tones. 
Here are the Remo Ambassadors in action: 
Here are the Evans G1s in action: 
Remo Emperor vs Evans G2
If you want tighter and more controlled tones from your drums, it's a good idea to use two-ply drumheads. Another benefit of these thicker heads is that they're more durable, causing them to last longer. 
Your two options from both brands are the Remo Emperors and Evans G2s. 
The Evans G2s are the more popular options when it comes to thicker drumheads. They're the gold standard for tight and controlled tones. 
These are often a go-to option for drummers that don't want to spend ages getting the right tuning. They do such a fantastic job of controlling the overtones from the shells that tuning becomes incredibly easy. They're also great for getting a modern, tight sound from each drum. 
The Remo Emperor heads aren't as popular, but they essentially do the same thing. They're the brightest drumheads that Remo offers, meaning they give you a bit more attack, while most other Remo heads offer more warmth. 
One plus side of the Remo Emperor drumheads is that you get several color options. The Evans G2s only come in clear and coated heads.
Here are the Evans G2s in action: 
Here are the Remo Emperors in action: 
Other Drum Heads
Both drumhead brands offer several other drumhead lines that give slightly different tonal qualities. Again, the main differences are that Remo heads are more open, while Evans heads are tighter and more controlled. 
Here are some of the Remo drumhead lines, along with short descriptions of what they offer: 
Remo Powerstroke

– Short and controlled sound with boosted attack.

Remo Pinstripe

– Warm tones with controlled sustain.

Remo Diplomat

– Open tones with lots of sustain.

Remo Fiberskyn

– Open and jazzy tones. 
Here are some of the other Evans drumhead lines, with short descriptions of what to expect:
Evans EMAD

– Popular set of thick

bass drum heads

.

Evans Hydraulic

– Warm tones with multiple color options. 

Evans EC2

– Tight tones for modern sounds. 

Evans Genera

– Dry sounds with little sustain.

Evans UV1 and UV2

– Very similar to G1 and G2, but they're more durable. 
Remo and Evans Accessories
It's important to mention that both drumhead brands also sell other products. While they specialize in drumheads, you can find unique accessories and tools to help drummers from each company. 
Remo tends to branch off a bit more, as the brand offers a wide range of percussion instruments that include bongos, cajons, and djembes. They also sell practice pads, drum mutes, and world percussion drums. 
Evans mainly sells drumheads, but you can find a few Evans practice pads, dampening systems, and they recently started selling electronic drum triggers. 
If you want to compare the brands, it's good to look at the other products that they sell, separate from drumheads. 
Other Drum Head Brands
It's also important to note that there are more drumhead brands out there compared to just Evans and Remo. Evans and Remo are the biggest companies, but you have a few more options to check out. 
The biggest alternative is Aquarian. Aquarian is a huge drumhead brand, but they've never quite hit the same level of popularity as Remo or Evans. 
One of the more interesting products from Aquarian is their triple-ply drumheads. These heads are incredibly thick, and they bring out interesting tones from your drums. 
A few other drumhead brands to check out are Attack, Dunnett, and RTOM. They don't make traditional drumheads, though. 
Final Thoughts on Remo vs Evans Drum Heads
There's no clear winner between Evans and Remo. Some types of drummers prefer Evans heads, while others swear by Remo ones. 
The best thing to do is try options from both to see what sticks in your setup. The products from Evans are always pushing technological boundaries, while the products from Remo are traditional and reliable. 
If you want wide-open tones, you'll find more options from Remo. If you want a more controlled sound, Evans may be a better choice. However, both companies offer drumheads for every possible need.