What are your New Year's resolutions? How about improving on the drums with the help of a roster of Hall Of Fame Drummers? The educational platform Drumeo has gone all-out and has created a brand new all-star lineup with some of the world's best drummers.
Drumeo coaches offer interactive lessons that are designed to motivate and help you improve on the drums. The lessons are responsive and engaging, you even have the opportunity to ask questions and obtain world-class input from the very best.
For 2022, the all-star lineup now includes even more of drumming's most prominent names, like Steve Smith, Simon Phillips, Dennis Chambers, Cindy Blackman-Santana, Aaron Spears, and more!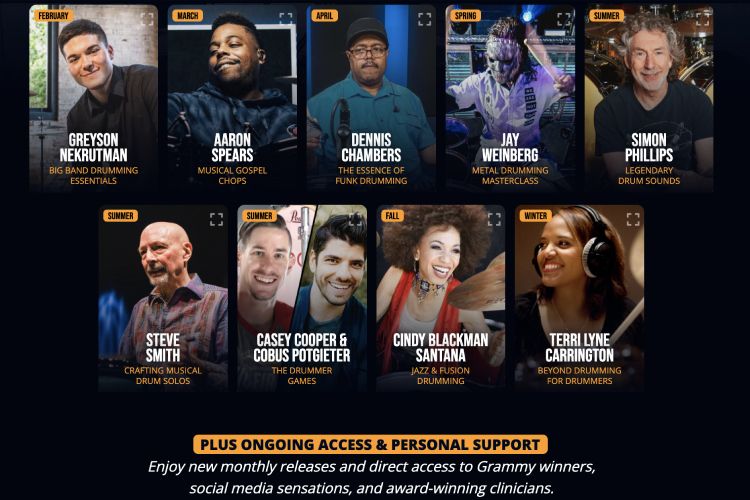 Drumeo's Coaches Roster is Even Bigger and Better in 2022
What better way to start off 2022 than to have access to the lessons and guidance of the world's greatest drummers right at your fingertips? These lessons come in the form of daily live streams that you can access from anywhere, from any digital device. 
The Drumeo Coaches section of the platform is a wonderful addition to Drumeo's extensive library of courses and lessons, that provides a more personal and engaging learning experience from a wide range of drumming topics. 
So, who's new to the Drumeo coaches roster exactly?
You've got drummers who play for Ariana Grande, Prince, Paul Simon, Usher, Toto, Journey, The Chainsmokers, Slipknot, Santana, and more all to one place to teach you how to play the drums.
These drummers are all joining the existing Drumeo Coaches on the roster. Let's take a look at some of the brand new Drumeo coaches in greater detail! 
Who are the New Drumeo Coaches?
Dennis Chambers
Dennis Chambers is one of the most capable and well-regarded drummers in the world. He is renowned for his impressive playing technique, speed, and grooving ability. He is super proficient yet highly musical.
Chambers is most well-known for his work performing with the likes of Santana, Steely Dan, Carl Filipiak, and many more. He was also inducted into the Modern Drummer Hall Of Fame in 2001, cementing his legacy as one of the greatest Jazz Fusion drummers of our time.
Simon Phillips
A truly innovative and progressive drummer, Simon Phillips is most well-known for his time being a member of Toto between 1992 and 2014. He has also worked with several other iconic musicians and artists including Jeff Beck, Tears for Fears, and Nik Kershaw.
He has a distinctive, bold playing style that added a spark of drumming genius to the rock, pop, and fusion genres. He plays with power and precision, yet with phenomenal musicality and groove.
Phillips has a tremendous wealth of experience as a professional touring drummer as well as a songwriter and is also another Hall Of Fame inductee. There is surely an incredible amount we could all learn from this spectacular musician as he becomes a new Drumeo Coach!
Steve Smith
Steve Smith is a well-versed drummer best known as being a member of the band Journey across three tenures. With Journey, Smith toured the world and recorded numerous successful albums that have sold in excess of 75 million copies worldwide to date!
An incredibly capable sticksman, Modern Drummer magazine readers have voted him the No. 1 All-Around Drummer five years in a row, and as an educator by nature, he loves teaching his techniques and concepts to students around the world.
In 2016 Smith rejoined Journey and has since been inducted into the Rock and Roll Hall of Fame, along with his band members.
Jay Weinberg
A modern-day drumming icon, Jay Weinberg had big boots to fill when joining Slipknot in 2014 replacing the late Joey Jordison. Jordison has inspired a generation of drummers and was awarded the greatest metal drummer of all time on numerous occasions. 
Jay Weinberg certainly stepped up to the plate, delivering on all fronts with his powerful, energetic, and exuberant playing style. 
Having been performing arena tours as well as the biggest music festivals in the world for several years, he is now ready to pass on all of his drumming wisdom to Drumeo members around the world through weekly live streams. You'll not want to miss them! 
Cindy Blackman Santana
Cindy Blackman Santana has been described as an innovator, a pioneer, and also as one of the best female drummers of all time. She has performed and toured with many big names within the Jazz, Rock, and Fusion genres, including Lenny Kravitz and Joss Stone.
Cindy Blackman is a passionate and vibrant musical performer and plays with real soulful emotion. Not to mention with excellent feel and groove, too!
She continues to build a body of work and artistic legacy that make her one of the finest and most inspiring drummers you can learn from.
Aaron Spears
Aaron Spears is an icon in the modern drumming world. Renowned for his impeccable chops, grooving, and musical creativity, Spears has toured the world with some of the biggest and most influential artists including Lady Gaga, Ariana Grande, and Usher just to name a few.
Aaron Spears is the quintessential modern drummer, mixing a flawless pocket style of playing with creativity and authentic delivery to provide a wonderful sound.
There is so much every drummer can learn from Spears, and this truly is a once in a lifetime opportunity to learn from one of the most-in-demand drummers in the world today!
How Valuable are the Drumeo Coaches?
The great thing about the variety of drum teachers is that there are lessons that drummers of all levels can tune in to. From drumming techniques, right through to advice on gigging and live performances, there are valuable takeaways for all drummers.
Each drummer that Drumeo has brings a unique range of skills and experience to the table, giving you a huge selection of things to learn. The common quality between all of them is that they're all professional working drummers. So, you're getting the first-hand experience right from the top.
You'll be able to learn so much from all of these drummers, who possess the ultimate drumming knowledge and music wisdom that will prove to be invaluable to drummers of all levels.
No matter whether you're a complete beginner or an aspiring professional, the Drumeo Coaches will be an incredibly valuable tool to all drummers around the world.
Furthermore, all of the live streams are uploaded onto the Drumeo platform, so even if you miss some, you are able to catch up to all of them at a later date. Meaning you can enjoy learning from the best drummers at your own pace and within your own schedule.
So go visit Drumeo now to view the full roster, and sign up for the ultimate online drumming masterclass available, where you can have complete access to the world's top drummers and learn their techniques, tips, and insights to help you become a better drummer!