We review products independently and our recommendations are genuine. If you purchase through links on our site, we may earn an affiliate commission. Learn more
Remote hi-hat stands enable you to incorporate a second pair of fully functional hi-hats into your drum kit setup.
These stands have a short rod that mounts somewhere on your kit, and then they have a cable that connects to a pedal that you place next to your main hi-hat pedal. 
Remote hi-hat stands aren't too common, as only a few drum brands sell them. So, we're going to look at three of the best options available. 
I've picked these out and compared them according to their build quality, design, features, and overall value.
What are the Best Remote Hi-Hat Stands?
Image

Recommended Products

Product

Features
Price

Infinitely Adjustable Spring Locking Tension
Uni-body Folding Footboard
DW Drop-Lock hi-hat clutch

Switchable cams
PosiLink drive system
PowerShifter footboard customization

Tama/JAGWIRE cable
Rotating ratchet clamp
Quick-release clutch 
In-Depth Remote Hi-Hat Stand Reviews
The ultimate remote hi-hat stand with an excellent build quality and playing response. It has very heavy and durable components, and the footboard feels very smooth to play on.
The DW 9000 series remote hi-hat stand is one of the most popular options available. It's arguably the most heavy-duty option, and this stand has intuitive components that make it feel great to use. 
It mounts to a cymbal stand with DW's Mega Clamp, which is a very thick clamp that keeps your hi-hats securely in place. No matter how heavy they are, this mounting mechanism won't allow anything to move. 
The DW 9502LB 9000 Series Remote Hi-Hat Stand comes with DW's Drop-Lock hi-hat clutch to control your hi-hats. It allows you to open and close your hi-hats on the fly by pressing the lever down. You can also hit it with a stick to make it work. 
The cable is 8ft, giving you plenty of room for positioning. However, you can get a longer cable from DW if you need it. 
The cable attaches to a DW 9000 foot pedal, which feels incredibly smooth to play on. It also has several adjustment features, letting you dial in the perfect settings for your preferences. You can easily make this pedal have the same response as your main hi-hat pedal, and that will make playing with the auxiliary hi-hats easier. 
Lastly, this remote stand comes with a padded bag to keep it in. I love this inclusion, as it keeps the stand protected from your other hardware when you're moving your kit. 
The high price is the big drawback of this stand. All remote hi-hat stands are expensive, but this one is a bit pricier than you may expect. 
Features:
Infinitely Adjustable Spring Locking Tension

Uni-body Folding Footboard

DW Drop-Lock hi-hat clutch
Pros
Heavy-duty hardware components

You can swap the cable for a longer or shorter one

Incredible playability

Includes a carry bag
Cons
Expensive
The part underneath the clutch needs a bit more protection for your cymbals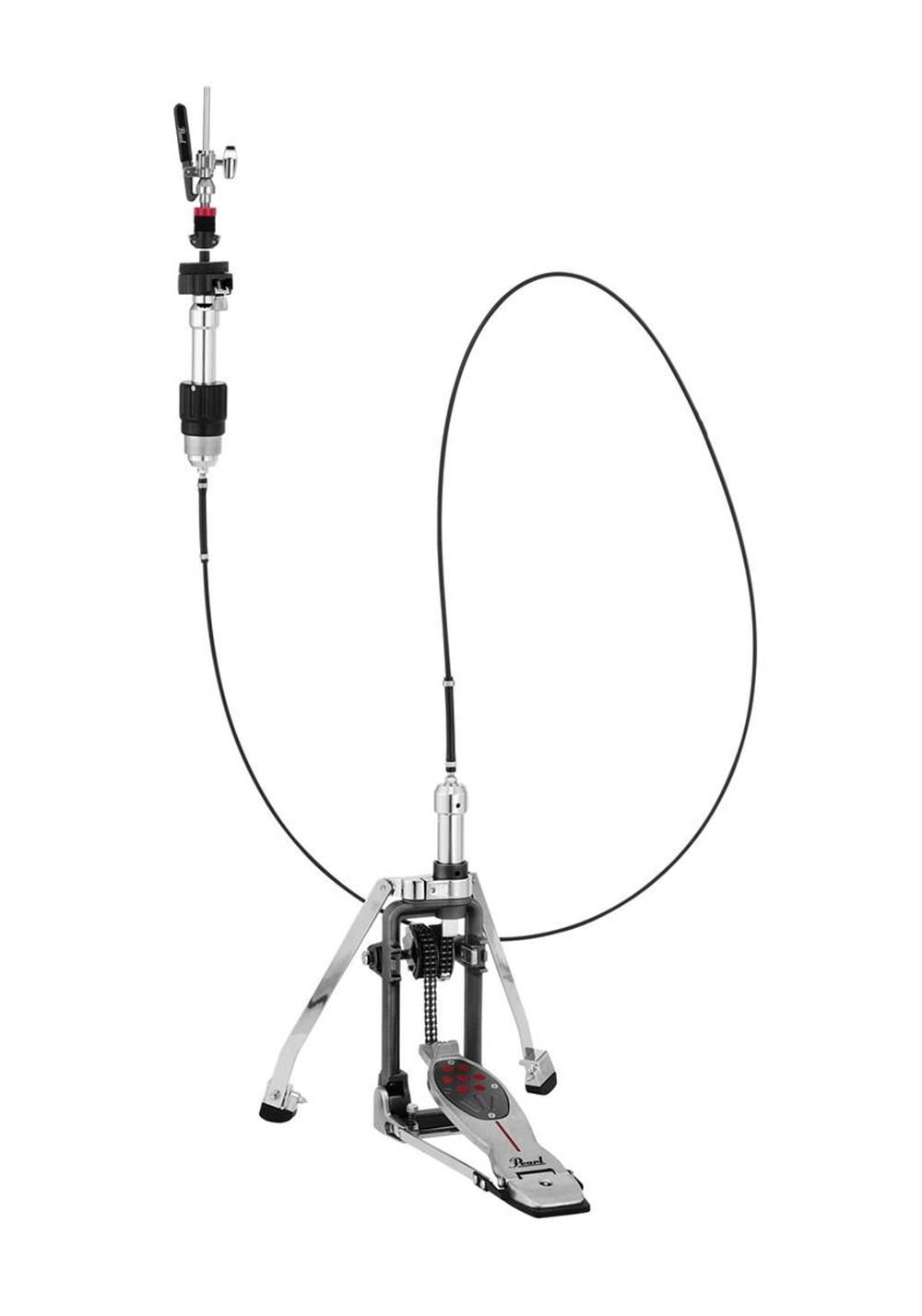 With an impressive number of customization options, including switchable cams and varying footboard positions, this is a professional stand that carries an excellent price tag.
If you're looking for a more affordable yet professional quality option, the Pearl RH2050 Eliminator Redline Remote Hi-Hat Stand is an excellent pick. It's still rather expensive for a hi-hat stand, but it has a lower price than the other two remote stands on this list. 
The beauty of this stand is the sheer amount of customization that you get. The biggest feature of all of Pearl's Redline stands is that you can change the cam of the pedal to get varied response levels. The stand comes with four different cams, so you get to pick which one you like the most. 
The stand uses the PosiLink drive system with a dual chain to get quick responsiveness. The adjustable cams then slightly alter that to become tighter or looser. 
The PowerShifter also lets you alter the playing positions for the pedal. You can quickly adjust to each level to get varied resistance. 
On the hi-hat side, you get Pearl's SuperGrip Clutch. It's a standard hi-hat clutch, but it has an oversized lever that allows you to tighten the top hat very tightly. It also makes loosening it quite easy. 
The drawback of this stand is that the cable takes quite a while to settle in. It will feel fairly stiff at first, and it's difficult to play dynamically with the pedal. The more you use it, the better it starts to feel, though. 
Features:
Switchable cams

PosiLink drive system

PowerShifter footboard customization
Pros
Interchangeable cams allow for customized pedal response

Very easy to set up and use

PowerShifter mechanism makes the pedal cater to a wider range of drummers

Overall solid build quality
Cons
The cable takes quite a while to wear in
Doesn't come with a mounting clamp for the hi-hat rod
A simple yet elegant remote stand design from Tama that features the famous Iron Cobra pedal. It's incredibly dynamic and responsive.
The Tama HH905RH Iron Cobra Remote Hi-Hat Stand is the final good option to consider. The most impressive thing about this one is the quick responsiveness that you get from the connecting cable. 
Tama partnered with JAGWIRE to create this cable, and JAGWIRE is a company that makes brake cables for mountain bikes. So, you get an incredible design here that works like a dream. 
If you're looking for a remote hi-hat stand to use as your main hi-hat stand, I'd suggest getting this one due to its quicker response times. 
The stand comes with a Tama Iron Cobra pedal, which is one of Tama's most pristine pedals. It feels great to play with, and you get to adjust it in a few useful ways. It doesn't have as many adjustment options as the previous stands, though. 
You get a quick-release clutch with this stand. It has a button that you press to release the tension of the clutch, allowing you to change your hi-hats very quickly. While this doesn't have any playing benefits, it makes setting up a lot faster.
The one thing to note about this stand is that the included hi-hat rod is quite short. Some drummers love shorter rods, but you may need to swap it out for a longer one if you plan on using something like a big drop clutch that won't fit. 
Features:
Tama/JAGWIRE cable 

Rotating ratchet clamp 

Quick-release clutch 
Pros
Nearly no latency with the cable

Iron Cobra pedal feels fantastic

The quick-release clutch is very useful

Includes a large carry bag
Cons
The included hi-hat rod is very short
Benefits of a Remote Hi Hat Stand
The biggest benefit of having a remote hi-hat stand is being able to have a second pair of fully functional hi-hats in your drum kit setup.
A lot of drummers like having a second pair, but they're just mounted to a standard cymbal stand and can't open and close like regular hats. 
With a remote hi-hat stand, you get more playing options, and you can choose which hi-hats to use for certain parts in songs. 
Another benefit of having a cable hi-hat is that you can place your hi-hats in various positions around your kit. While placing the hi-hats next to the snare drum is the common option, some drummers get creative with ergonomics and unusual placements.
Remote hi-hats are typically placed on the right side of the kit, and it allows drummers to play the hi-hats and snare drum with an open-handed playing technique.
Drummers like Harry Miree play on a left-handed setup, but they're completely right-handed. He uses a remote hi-hat stand to still allow him to use his hi-hats with his left foot.
Features to Look Out for in X Product
Mounting Mechanism 
The mounting mechanism is the part that attaches the rod and clutch section of the remote hi-hat stand to one of your cymbals. Every remote stand needs to use one of these, but not every remote stand comes with one included in the purchase package.
Make sure to check if it does. If you don't get one with the purchase, you'll need to buy one separately for the remote hi-hat stand to work. 
It's best to get a heavy-duty attachment piece so that your stand feels securely locked in place when it's set up. 
You should also attach the remote hi-hat stand to a cymbal stand that is heavy and securely placed on the ground. If it's attached to a light stand, it may tip over with hard playing. 
Hi-Hat Pedal
The hi-hat pedal will greatly determine how the remote hi-hat stand feels when you play. The remote hi-hat pedal will have a certain amount of action and give, and it will have design features surrounding it that may be adjustable. 
One of the biggest things to look for with a pedal is whether it has a base plate or not. Pedals with base plates typically feel a lot more secure when playing, making them feel more comfortable. 
However, a pedal without a base plate is a lot lighter to carry around. 
Cable
All remote hi-hat stands come with cables that connect the pedal to the rod. Most of these cables are very similar across all the stand options, but not all of them are the same length. 
The longer the cable is, the more variety you'll have with your setup options. So, make sure to check the length before purchasing a stand. 
Some cables are interchangeable. You can purchase a longer one to replace the shorter one that came with the stand. This is something that the DW remote hi-hat stand is popular for. 
Adjustment Options
The adjustment options will mostly be found with the pedal and the structure surrounding the pedal. Some pedals will have different placement options, while other remote hi-hat stands will allow you to adjust the speed and response of the chains that hold the pedal up. 
Luckily, most remote stands have several adjustment options. They're all expensive, so they come with all the bells and whistles that you'd also get with standard high-tier hi-hat stands. 
Some stands have more adjustability than others, though, so that's something else to look out for when looking to buy a stand. 
Hi Hat Clutch 
The hi-hat clutch is the final thing to look out for when getting a remote hi-hat stand. It's not the most important feature, as you can just replace it with a better clutch if you want, but it is good to know what kind of clutch comes with the stand you're getting. 
All the stands I suggested above have various clutch types that attach to the top hi hat cymbal. The DW stand comes with a drop-clutch, the Tama stand comes with a quick-release clutch, and the Pearl stand comes with a standard clutch.
Remote Hi Hat Stand FAQs
How Does a Remote Hi Hat Stand Work?
A remote hi-hat stand has a solid base with a pedal that connects to a rod via a hydraulic cable. You mount the rod somewhere around your drum kit, and the cable runs to the pedal that gets placed next to your main hi-hat stand. 
Can You Put Large Hi Hats on a Remote Stand?
It depends on the strength of the remote hi-hat rod. Most remote hi-hats are heavy-duty pieces of gear, so you can comfortably place hi hat cymbals on them that are up to 18".
Is Using a Remote Hi Hat Stand Difficult? 
It mostly feels the same as using a regular hi-hat stand. You just need to get used to the slight delay between the pedal and the hi-hat mechanism with the rod. You also need to get used to switching your foot between the two hi-hat stands.